JAAS is pleased to welcome Dr Gerardo Gamez to its Editorial Board!
---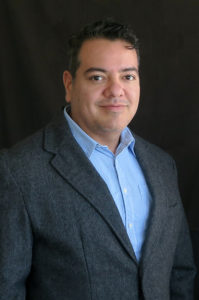 Dr Gamez obtained his B.Sc. at the University of Texas at El Paso, USA, where he performed research with Prof. Dr. Gardea-Torresdey in the area of environmental chemistry pertaining to the use of plant tissues to filter heavy metal contamination from aqueous media. He also obtained his M.Sc. in the Gardea-Torresdey group developing methods to recover noble metals from aqueous media and new processes to produce noble metal nanoparticles. He obtained his PhD in Analytical Chemistry at Indiana University-Bloomington, USA, with Prof. Dr. Hieftje, where he employed laser and optical emission diagnostic techniques in fundamental studies of plasmas used in analytical spectrochemistry. He also received the first Richard Payling Award for his work on the development of GDOES elemental mapping, co-developed a plasma based ambient mass spectrometry (AMS) source, and served as the chair for the Indiana Section of the Society for Applied Spectroscopy.
His postdoctoral work at ETH Zurich, Switzerland, with Prof. Dr. Zenobi, involved developing AMS methods and exploring the possibilities of near-field laser ablation techniques. He then worked as a Scientist in the Laboratory for Mechanics of Materials and Nanostructures at EMPA Thun, Switzerland, where he developed methods and instrumentation in glow discharge spectroscopy, and served as coordinator and manager for GLADNET, an EC FP6 program research-training network. In 2013, he joined the faculty at Texas Tech University Department of Chemistry and Biochemistry where his research focuses on developing instrumentation and methods for multi-dimensional analysis, based on plasma OES and AMS, as well as plasma fundamental studies.
He was awarded the inaugural Journal of Analytical Atomic Spectrometry Emerging Investigator Lectureship in 2016, and received the 2020 Young Plasma Scientist Award at the Winter Conference for Plasma Spectrochemistry. He has coauthored more than 70 peer-reviewed publications.