We are delighted to announce Jacob T. Shelley as the recipient of the JAAS Emerging Investigator Lectureship 2021. This Lectureship aims to recognise and support an emerging scientist working in the area of atomic spectrometry in the early stages of their independent career.
Introducing Jacob T. Shelley, Rensselaer Polytechnic Institute, USA:
Jacob (Jake) Shelley, Alan Paul Schulz Career Development Professor of Chemistry at Rensselaer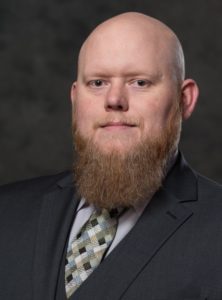 Polytechnic Institute, earned his B.S. in Chemistry from Northern Arizona University. He completed his Ph.D. at Indiana University under Gary Hieftje where he studied novel plasma ionization sources for molecular mass spectrometry.  Jake did postdoctoral research with Graham Cooks at Purdue University developing portable mass spectrometers capable of in situ analyses.  After another post-doc at the University of Münster, he became Assistant Professor at Kent State University and later moved to RPI in 2016.
His research interests lie in the development of new hardware and software tools for mass spectrometry, which enable rapid, sensitive detection and identification of analytes in complex matrices.  In addition, his research group uses high-energy plasma-generated species to perform unique gas-phase synthesis.  These research areas converge in studying chemical origins-of-life through the Rensselaer Astrobiology Research and Education (RARE) Center, where he is the Associate Director.
Jake's recognitions include a Humboldt Post-Doctoral Fellowship, Bunsen-Kirchoff Award (2017), The Analytical Scientist's Top 40 Under 40 Power List, Spectroscopy's 2020 Emerging Leader in Atomic Spectroscopy Award, and 2021 EAS Young Investigator Award.  He's authored 45 journal articles, 4 issued US patents, and given 50+ invited presentations worldwide.