The 18th International Conference on Total Reflection X-ray Fluorescence Analysis and Related Methods (TXRF-2019) was held in Girona, Spain on the 25th-28th June 2019.
Our journal, Journal of Analytical Atomic Spectrometry (JAAS) was happy to award the oral and poster awards at the conference, with prizes including a £100 RSC book voucher, and a year's e-subscription to JAAS.
Congratulations to the winners!
Oral award: Gabriella Mankovskii
Contribution: "Applications of TXRF in quantifying AuNPs uptake in cancer cells and tissues: Comparisons with ICP".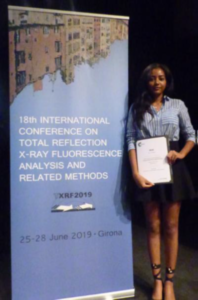 Poster award: Laura Borgese
Contribution: "Assessment of a calibration method for quantitative analysis of Pb in air particulate matter".