We are delighted to draw your attention to the latest JAAS themed collection devoted to analytical atomic spectrometry in South America.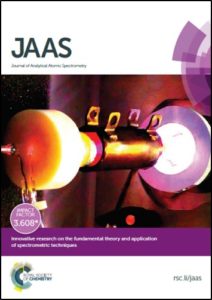 This collection was Guest Edited by JAAS Editorial Board member Érico Marlon de Moraes Flores and showcases the work of some of the best researchers working at South American institutes. An Editorial by Érico Marlon de Moraes Flores prefaces the collection.
Read the full collection now: rsc.li/south-america
All papers in the collection are free to access until the end of December 2018 with an RSC Publishing Account.
---
We hope you enjoy reading the full collection. Take a look at a small selection of excellent articles featured in the collection below:
Investigation of spectral interference in the determination of Pb in road dust using high-resolution continuum source graphite furnace atomic absorption spectrometry and direct solid sample analysis
Susane Schossler Fick, Flávio Venâncio Nakadi, Fabian Fujiwara, Patricia Smichowski, Maria Goreti R. Vale, Bernhard Welz and Jailson B. de Andrade
UV photochemical vapor generation of noble metals (Au, Ir, Pd, Pt and Rh): a feasibility study using inductively coupled plasma mass spectrometry and seawater as a test matrix
Richard Macedo de Oliveira and Daniel L. G. Borges
A systematic look at the carbon monosulfide molecule and chemical modifiers for the determination of sulfur by HR-CS GF MAS
Éderson Rodrigues Pereira, Bernhard Welz and Augusto Alves Vieira
Internal standard fused glass beads for high silicon content sample analysis by laser-induced breakdown spectrometry
Alexandrina A. C. Carvalho, Flavio O. Leme, Maciel S. Luz, Pedro V. Oliveira and Cassiana S. Nomura
A green analytical method for the determination of Cu, Fe, Mn, and Zn in wheat flour using total reflection X-ray fluorescence
Ignacio Machado, Sebastián Mondutey, Natalia Pastorino, Valeria Arce and Mariela Pistón
---
You can keep up to date with the latest developments from JAAS by signing up for free table of contents alerts and e-newsletters.