The 2018 Winter Conference on Plasma Spectrochemistry is being held on January 8th – January 13th 2018 on Amelia Island, Florida, USA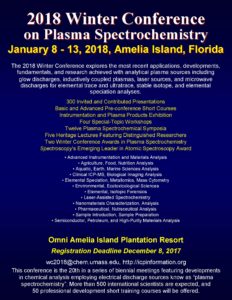 The biennial Winter Conference on Plasma Spectrochemistry is sponsored by the ICP Information Newsletter, Inc., a non-profit research organisation located in Hadley, Massachusetts and Lehigh Acres, Florida, and organised by Dr Ramon Barnes of the University Research Institute for Analytical Chemistry.
The 2018 Winter Conference explores the most recent applications, developments, fundamentals, and research achieved with analytical plasma sources including glow discharges, inductively coupled plasmas, laser sources, and microwave discharges for elemental trace and ultra-trace, stable isotope, and elemental speciation analyses.
This conference is the 20th in a series of biennial meetings featuring developments in chemical analysis employing electrical discharge sources known as "plasma spectrochemistry". More than 500 international scientists are expected to attend with 300 invited and contributed presentations and 50 professional development short training courses being offered. The meeting will take place at the Omni Amelia Island Plantation Resort on Amelia Island, Florida.
The pre-registration deadline is October 13, 2017. The registration deadline is December 8, 2017. More information can be found online.
Philippa Hughes, Executive Editor of JAAS will be in attendance and JAAS will also be sponsoring two poster prizes this year – good luck to all of the entrants!