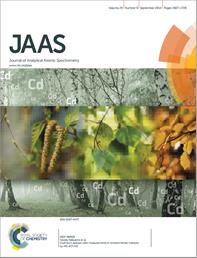 To celebrate the upcoming meeting of the 30th Congress of the International Society for Advancement of Cytometry – CYTO 2015 – in Glasgow, we've put together a small collection of papers on mass cytometry and flow cytometry from JAAS and Analyst. These will be free to read until July 24th.
Deputy Editor Rebecca Brodie will be attending CYTO 2015, so if you are in Glasgow this weekend and would like to discuss the journal, or publishing in general, please do email us.
We hope you enjoy reading these papers.
Gold-nanoparticle coated La, Tb-encoded PS beads and their application in investigating the performance of the inductively coupled plasma of a mass cytometer
Chun Feng, Vladimir I. Baranov and Mitchell A. Winnik
J. Anal. At. Spectrom., 2013, 28, 1475-1484
DOI: 10.1039/C3JA50149C
Diffusion- and velocity-driven spatial separation of analytes from single droplets entering an ICP off-axis
Olga Borovinskaya, Maryam Aghaei, Luca Flamigni, Bodo Hattendorf, Martin Tanner, Annemie Bogaerts and Detlef Günther
J. Anal. At. Spectrom., 2014, 29, 262-271
DOI: 10.1039/C3JA50307K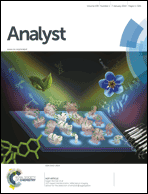 Metal/dye-doped core-shell silica nanoparticles for potential use in bioassay
Jung Aa Ko and H. B. Lim
J. Anal. At. Spectrom., 2013, 28, 630-636
DOI: 10.1039/C3JA30373J
Webcam-based flow cytometer using wide-field imaging for low cell number detection at high throughput
Joshua Balsam, Hugh Alan Bruck and Avraham Rasooly
Analyst, 2014, 139, 4322-4329
DOI: 10.1039/C4AN00669K
Making a big thing of a small cell – recent advances in single cell analysis
Kerstin Galler, Katharina Bräutigam, Christina Große, Jürgen Popp and Ute Neugebauer
Analyst, 2014, 139, 1237-1273
DOI: 10.1039/C3AN01939J
High temporal resolution fluorescence measurements of a mitochondrial dye for detection of early stage apoptosis
Divya Iyer, Rachel D. Ray and Dimitri Pappas
Analyst, 2013, 138, 4892-4897
DOI: 10.1039/C3AN01142A