We have a double feature today. We interview Shudi Zhang and Zhibin Yin, who are carrying out their PhDs under the supervision of Prof Dr. Wei Hang at Xiamen University (China), and who we had the opportunity to meet during the recent 6th Asia-Pacific Winter Conference on Plasma Spectrochemistry.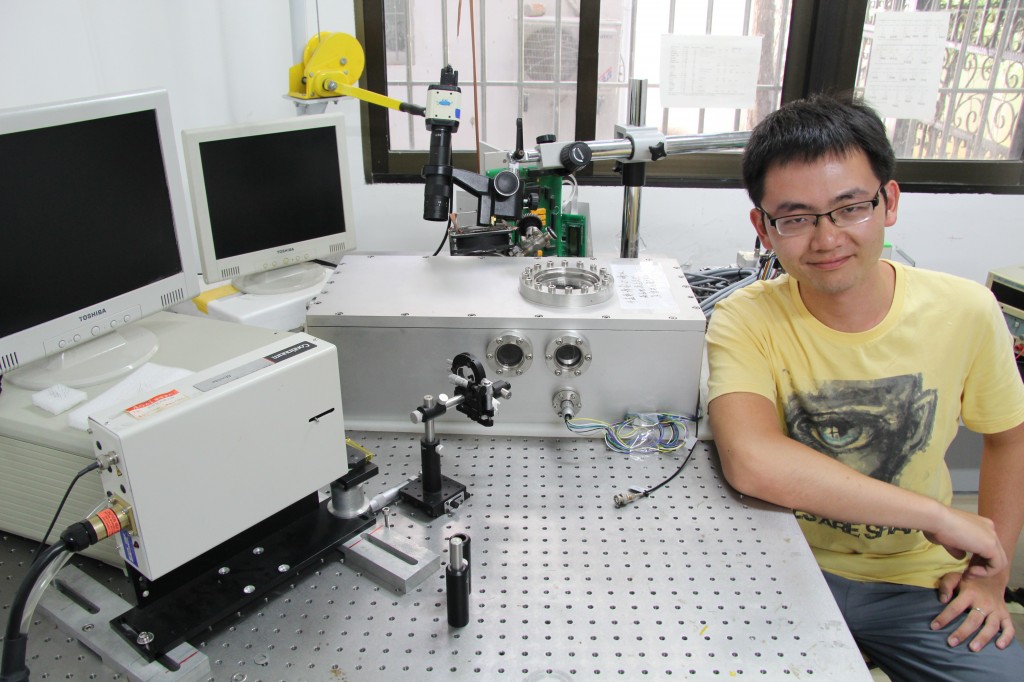 Shudi Zhang in his lab in Xiamen
Who or what inspired you to become a scientist?
There was a common saying in Chinese that there would not be anything to be afraid of if you learned Mathematics, Physics and Chemistry well. That was what my parents and teachers had always been telling me. Thereby I studied these subjects strenuously and found them interesting, especially Chemistry. I thought that it was a great wonder to witness two substances reacting with each other and giving rise to various fabulous scenes, like color altering, foaming, glowing, booming and so forth. Plus, it felt so good when I was able to explain the fundamental mechanism of some conventional phenomena in daily life. Hence, I decided to work on Chemistry and try to make a contribution to it.
Why did you choose your research group/University and what factors influenced your choice?
First of all, Chemistry is one of the best majors in Xiamen University, and the milieu here for doing research is perfect. Secondly, Professor Wei Hang has been doing an excellent job in instrumentation and application of mass spectrometry, in which I am very interested. I thought mass spectrometry is the most versatile tool to characterize various chemical compounds, and I wish to master the essence of it. Thirdly, the students in my group are very friendly and accommodating, and I had a great time working and exchanging thoughts with them. So I made my choice to study in Professor Wei Hang's group in Xiamen University.
Can you explain a bit the purpose of your current research activities?
I'm currently doing simulation and theoretical work in laser ablation/ionization mass spectrometry. Laser ablation technique is well-known for its versatility and simplicity, but it suffers from matrix effect and elemental fractionation. In order to make the technique more applicable, it is imperative to study the fundamental mechanism of the whole laser ionization process and make refinements based on the factors that matter. This is the purpose of my research activities and I'm utilizing Chemometrics and physical simulations to achieve this goal. With chemometric tools, I can figure out and quantify the importance of the physical and chemical properties of the matrices in matrix effect/elemental fractionation through a mathematical point of view. Furthermore, by physical simulation, I can get insight into the detailed processes and check out which ones may give rise to these effects. Currently I've proved that the influence of laser pulse width on matrix effect is really a matter of thermal properties of matrices.
How is a typical day in your lab?
Unlike many other supervisors who have a stringent demand for students to arrive at Lab early, Prof. Wei Hang allow us to arrive at 9:00 a.m. and hence work with high efficiency and great energy. Usually I spend half an hour at the beginning of a day to plan the things I'm going to do. There are plenty of mass spectrometers in our group, which guarantees enough time for me to handle spectrometers. Samples have already been loaded into the ionization chamber the previous day at night, so then I would adjust the instrumental parameters, and analyze the samples. Our group goes to lunch together and shares experimental observations and ideas on the way to lunch. In the afternoon, I would process the data obtained in the morning and possibly redo the experiment if there is something wrong with the data. In the evening, I would clean the instrument, load new samples into it and take a brief overview of the work done during the day. After that, I would read some articles relevant to my research area or just something I'm interested in. This is a typical day in my lab.
What common activities are organized in your research group?
The most frequent activity is playing badminton. All our group members go to play it every Thursday night to exercise and relax. Regularly, we'll have a big meal once or twice a month. Additionally, Professor Wei Hang would invite us all to dinner whenever a paper is published or a great deal of job has just been finished. When time is good, we would also go to KTV and sing the songs we love. Moreover, our group will go hiking at the end of each year to relax and enjoy the great scenery. When a student has just graduated, our group will have a short trip to another town to celebrate it. All these activities make me feel that our group is a big harmonious family which deserves fighting for it.
What app/programs do you typically use?
I use Microsoft Word most frequently to write articles, reports and so on. As to data processing, I prefer Origin for its great ability and diverse data-presenting choices, although I also use Microsoft Excel to do some simple data-manipulation. Labview is also a choice for data processing; what is more importantly, I also use it to make programs to control the instruments. In order to get more complicated contour plots, I use Surfer as well. And of course, I use Microsoft PPT to give presentations and report my experimental proceedings. As to my research area, I also use Matlab and FDTD solutions for simulation.
How do you search for scientific information? How do you manage your bibliography?
Most frequently, I use Google Scholar to search articles and other scientific information. SciFinder is another choice, but it takes more time. I manage my bibliography using Endnote software. I think it's a very convenient tool to categorize and manage the numerous articles you've read.
What are your views on JAAS? Which type of articles do you prefer? Do you miss some content?
JAAS is one of the most outstanding journals in atomic spectroscopy. Although I haven't published an article in JAAS, I'm sure I'm going to send a manuscript in the near future. I've read a great deal of JAAS articles dealing with laser ablation and laser ablation-ICP techniques. Moreover, I enjoy reading latest development in instrumentation in JAAS.
What do you like and dislike the most about your work?
I like the great opportunity to learn mass spectrometry, since there are plenty of mass spectrometers in the lab and I have the chance to learn every one of them. I like it when we're allowed to dismantle a mass spectrometer and to learn the concrete configuration and instrumentation of it, which is undoubtedly a precious experience. I like my accommodating colleagues, the cooperative atmosphere here.
I dislike it when my experimental and simulation results didn't come out right, when the instrument didn't function well and when my paper was rejected.
What do you expect to be doing in 5 years' time?
From now on, I will spend three years' time to finish my PhD's degree. After that, I guess I would either go abroad to get a post-doctoral position to continue my endeavor in atomic spectroscopy or work in some research institutions or companies.
What do you enjoy doing when you are not in the lab?
Outside my research area, I have plenty of hobbies. I like foreign literatures and movies, so I combine them into one activity: watching foreign movies and TV series. I learn English and Japanese this way. I like computer skills as well. Whenever a computer (either mine or my friends') does not work out right, I will get very excited and try everything I can to solve the problem. Oh, and recently I'm falling in love with photography, since I want to record the beauty of life by myself.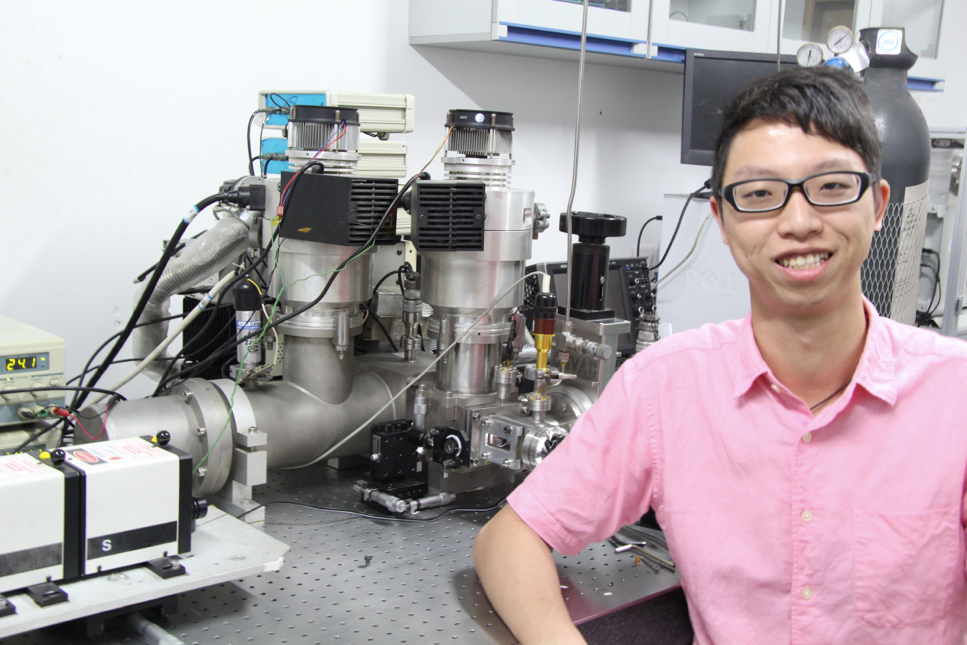 Zhibin Yin in his lab in Xiamen
Who or what inspired you to become a scientist?
I think what inspired me to become a scientist is the life in my school, Xiamen University. I was still a know-nothing teenager and did not touch the fancy scientific world before I went to university. It was the scientific courses, my supervisor Prof. Wei Hang as well as colleagues that inspired me to step into the palace of science. It was an interesting and delightful moment every time I discussed the scientific issues with my colleagues in the lab, such as Weifeng Li, Shudi Zhang, Miaohong He, and Zhisen Liang. I always learn something new no matter who is the winner of the discussion. Additionally, my parents are also the persons who inspired me to become a scientist because they always gave me the freedom to choose what I really like.
Why did you choose your research group/University and what factors influenced your choice?
First of all, I chose Xiamen University as my undergraduate school because it is one of the most beautiful campus in China and it is close to my home. It may sound naive at first but it is true. However, I was attracted and impressed by the history, the culture, the academic atmosphere of this beautiful university. Moreover, the College of Chemistry and Chemical Engineering, where I studied, is the best college in Xiamen University. So is the Analytical Chemistry group. I find out my enthusiasm for mass spectrometry in Prof. Wei Hang group. I like the instrumentation and application of MS very much. That is the reason why I choose to pursue for my PhD degree directly as soon as I got my bachelor degree in the same university, Xiamen University.
As for the choice of my research group, it can be attributed to the fact that I am crazy about Analytical Chemistry. When I was a second-grade undergraduate student, I got a project called "Seeding-Raising Funding", which encourage undergraduate with curiosity to join the group of interest for scientific research. Compared to synthetic Chemistry, such as Inorganic or Organic Chemistry, I would prefer Analytical Chemistry. So I joined Prof. Wei Hang group, wich opened my academic road. It was the first time I got to know optical and mass spectrometry and I became crazier and crazier about them when I got this insight. The research group has provided me with the platform to learn and grow. I really cherish this hard-won opportunity. I would stick to my original choice if I were permitted to choose again. Another reason why I choose my research group is the colleagues in the lab. I am so happy to work with them during my PhD program.
Can you explain a bit the purpose of your current research activities?
I am engaged in the research and development of new analytical methods based on laser ionization time-of-flight mass spectrometry (LI-TOFMS) and new MS instruments. In my last project, I focused in acquiring the information on metal/nonmetal elements, molecules, as well as molecular fragments of organometallic compounds simultaneously by high irradiance LI-TOFMS. In my view, this corresponds very well with the new JAAS scope, seeking for new sources that provide both atomic and molecular information. It is time-saving and easy-to-operate that acquiring the elemental, fragmental, and molecular information simultaneously by LI-MS.
In my current research, I will be active in the project devoted to focus the micron-sized spot to the nano-scale spot by laser irradiance. Lateral resolution in the laser-dependent technique is restricted to micron by the diffraction limit. However, there is an urgent need for developing a new analytical method that goes deep into nano-world. Hence, I try to introduce the near-field effect to LI-MS in order to obtain nano-scale resolution.
How is a typical day in your lab?
We do not follow the old saying that "The early bird gets the worm", instead we go to the lab at about 9 o'clock a.m. Compared to getting up early, I prefer to do the research with efficiency. I always schedule my work every day on my way to the lab, and start to work quickly as soon as I arrive at the lab. Generally speaking, I will warm up the home-made laser ionization time-of-flight mass spectrometer (LI-TOFMS) laser, as well as the cooling water system and the oscilloscope. Data processing is right behind finishing experiments, in case more experiments needed to be supplemented. I think the happiest time in a day is the mealtime, because all of us in the lab can discuss the interesting experiment phenomena, and share what has happened all over the world.
In addition to daily experiments, I spend most of my time reading literature, thinking why he/she came up with this wonderful idea, and taking notes about the most innovative points at night. We will finish our typical day at about 10 o'clock p.m.
What common activities are organized in your research group?
Every Thursday afternoon is the most important time of the week for us. Group meeting will be held for discussing the results we have obtained and what bottlenecks have been encountered. Moreover, we can share the fantastic ideas of original papers. After group meeting finishes, all of us will play badminton in the evening. Moreover, our group will organize a short trip to another town for relaxing and sightseeing in the summer vacation.
What app/programs do you typically use?
In consideration with home-built LI-MS instruments, there are a lot of programs we should use. For example, LabVIEW 8.5 is used to control laser, high-voltage pulse train generator, and collect the data from a digital storage oscilloscope. Origin 8.5 is used for processing data and producing final mass spectra. I also use AutoCAD and Photoshop for editing graphics. Additionally, we will use Solidworks 2014 to build 3D MS instruments and SIMION 8.0 to simulate the ion trajectory in the electrostatic field of LI-TOFMS. Last but not least, we mostly use Microsoft Office, such as Word, Excel, and PowerPoint etc.
How do you search for scientific information? How do you manage your bibliography?
In Xiamen University, we can choose SciFinder Scholar or Web of Science for scientific information. However, I always use Google Scholar to find the literatures of interest for convenience. It is all-inclusive and easy to search that most of my colleagues use it.
For bibliography management, Endnote X7 is the apple of my eyes because it is highly compatible and easy to manage numerous literatures, as well as indispensable when preparing a manuscript.
What are your views on JAAS? Which type of articles do you prefer? Do you miss some content?
It is well-know that JAAS is at the forefront of analytical atomic spectrometry publishing. Because I am engaged in the field of laser and mass spectrometry, JAAS is one of the most important journals I follow. I will keep an eye on the up-to-date manuscripts, such as advance articles, and accepted manuscripts. Actually, I have registered as a member of RSC publishing and opened Email Alerts Service, so I am informed as soon as new issues of JAAS have been published. I have published a paper in JAAS, the comments from peer review process is very constructive and helpful. I always pay close attention to the field of laser and mass spectrometry, especially the new instrumental concepts and constructions. I hope JAAS can publish more themed collections about instrument development in near future.
What do you like and dislike the most about your work?
What I like the most about my work is that some inspirations come up to my brain when I read the literature. It is so exciting if I obtain the results just as I expected. Prof. Wei Hang always encourages us to disassemble the broken instruments and fix them up by ourselves. What I like most is to find what is wrong with an instrument and smoothly fix it.
What I dislike is the academic atmosphere in China, most of time we have to fight for the publishing numbers and high impact factor, the research innovation and significance are always ignored. Especially, many groups that are devoted to instrumental development can't publish high impart factor papers, but they are very important.
What do you expect to be doing in 5 years time?
Because I needn't go through the Master stage (from Bachelor degree to PhD degree directly), I have three years left before I can get my PhD degree. Right now, I can't make up my mind about what exact career I will be engaged in. But definitely, I will be occupied in the laser-related or MS-related area. I like instrumental R&D a lot, especially MS instruments, so it is my Bible for the direction of future development. No matter what employment direction I choose, I will go abroad for further study as a post-doctoral fellow after I get my PhD degree. I think it is a great experience for expanding my horizons. What I should do in the remaining 3 years of PhD is working harder, learning more, and making good preparation for the future.
What do you enjoy doing when you are not in the lab?
Sometimes I will stay in the lab for experiments and reading literatures, or I will hang out with my best friends or colleagues on some weekends. I like reading, watching foreign movies, and communicating with people. If I have enough time, I will choose to travel for gaining experience. Because there is a common saying in Chinese that "Either travelling or reading, body and soul, there must be one on the road". Having a good rest in my room is also a good choice to keep myself energetic for the work next week.
Thanks a lot to both of you for sharing your thoughts with us!
Have a look at Zhibin's most recent article in JAAS:
Comprehensive analysis of metalloporphyrins via high irradiance laser ionization time-of-flight mass spectrometry, Z. Yin, B. Sun, X. Wang, X. Cheng, W. Hang and B. Huang, J. Anal. At. Spectrom., 2014, 29, 1714-1719.