Today, we interview Ioana Konz, who recently defended her PhD successfully at the University of Oviedo, under the supervision of Dr. Beatriz Fernández-García and Dr. Mª Luisa Fernández Sánchez, and continues working in the research group of Prof. Dr. Alfredo Sanz-Medel.
Ioana in her lab in Oviedo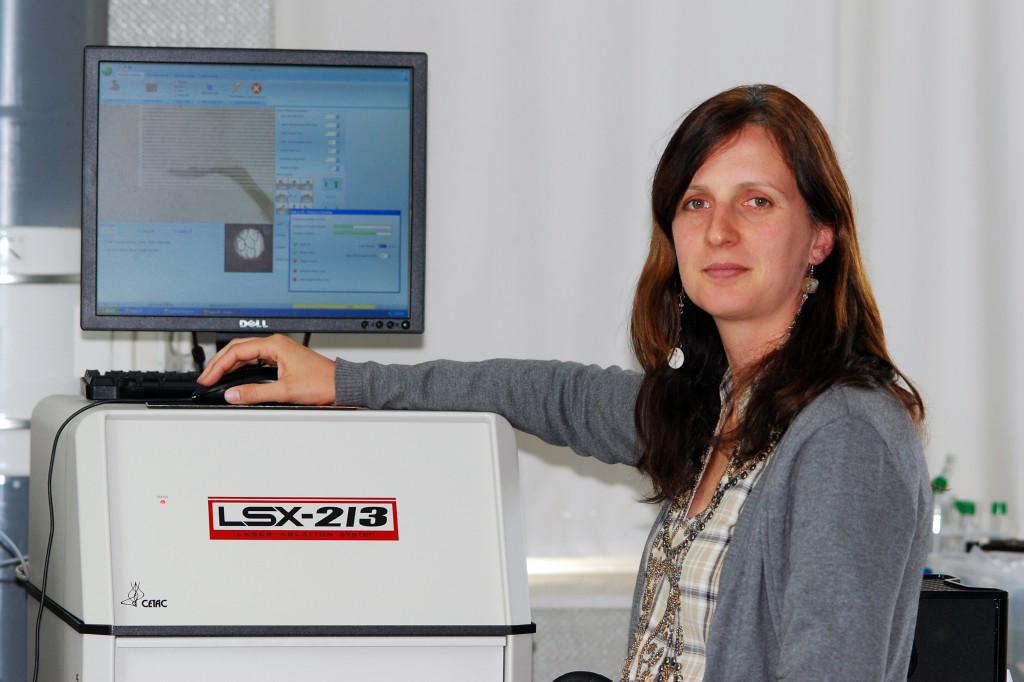 Who or what inspired you to become a scientist?
Both of my parents are chemists, so I suppose the scientific way of thinking was somehow put into my cradle. Furthermore, during the 10th grade in school my chemistry teacher had a very fascinating and inspiring way of explaining chemical phenomena. In contrast to the other Chemistry teachers, who had passed the conventional pedagogical education, he completed his Chemistry studies with a PhD and decided afterwards to dedicate his time to teaching in grammar school sixth form. Maybe because of the different educational background, he showed us another way of understanding Science and I wanted to see the world of Chemistry and all its ramifications through his eyes. That was when I first had the idea of studying Chemistry. The last three years in school, before entering University, strengthened my interest in Natural Sciences, so that finally my choice of studying Chemistry was quite easy.
Why did you choose your research group/University and what factors influenced your choice?
The last year of the Chemistry studies consisted in a 9-months laboratory work on a specific project and writing a report about the obtained results. At that time I had the opportunity to attend a very interesting presentation of Dr. Jörg Bettmer about ICP-MS and its impact on Bioanalytical Chemistry. When it came to the question whether I could carry out my diploma thesis in his research group he agreed but told me at the same time that he was continuing his research work in Spain as a member of the group of Prof. Alfredo Sanz-Medel. Due to the very interesting research topics carried out in his outstanding research group and its excellent reputation in the elemental MS community, after the diploma thesis I decided to extend my stay in the Analytical Spectrometry Group and carry out my Ph.D. in Oviedo
Can you explain a bit the purpose of your current research activities?
My research in Prof. Sanz-Medel's group is related to the development of new analytical strategies for quantitative and spatially resolved direct solid analysis by LA-ICP-MS. One of the major remaining challenges in LA-ICP-MS analysis is still the reliability of the obtained quantitative data. In this vein, during my Ph.D. my research was focused, on the one hand, on the development of precise and accurate quantification strategies for trace elements in different solid matrices. On the other hand, both in qualitative and quantitative elemental imaging, the correction of the LA-ICP-MS signal for matrix effects, variations in ablated and transported mass and instrumental drifts still presents a great challenge. Thus, investigations on the applicability of several signal normalization approaches for elemental imaging analysis represented an important part of my work.
Having always in mind the idea of improving existing methodologies and instrumentation, and based on the experience gained in this research group throughout the years, finally, but not less important, we designed and assembled of a novel cryogenic laser ablation cell.
Nonetheless, the key for successful and forward-looking research are collaborations between different scientific disciplines as generally carried out in the research group of Prof. Alfredo Sanz-Medel. In my special case these fruitful collaborations were with engineers for the design of the laser ablation cell and with ophthalmologists, building in such way a bridge between Analytical Chemistry and biological fundamentals of ocular diseases.
How is a typical day in your lab?
Recently, I finished my Ph.D. in Analytical Chemistry, so I consider myself as a senior scientist in the research group. Due to the valuable experience I earned over these years, I spend many hours helping my fellow colleagues, especially young scientists, in planning of experiments and operating analytical instrumentation. Of course, some of the experimental data will be translated into scientific publications. Therefore, the writing of scientific articles is also part of my work. When I'm not in the lab or behind my desk reading articles, I meet with my former supervisors to discuss on projects or collaboration partners.
What common activities are organized in your research group?
In our research group we have weekly meetings where we discuss on scientific topics and organisational issues before a Ph.D. student presents his recent research progress. Afterwards we have valuable discussions about the presentation and the work, where everyone can contribute with new ideas or suggestions. In this way we can stay up-to-date in different lines of investigation, since each student is working on his own project in different fields of research.
Our research group has also a long history in social events. Usually we are organizing a group-dinner before the Christmas vacations and a summer lunch in July. This gives us the possibility to stay in touch with all our colleagues, since some of them are working in other laboratories.
What app/programs do you typically use?
Most of the data treatment as well as the preparation of experiments, such as calculations of solutions etc., is done by MS Excel. For the translation of the LA-ICP-MS row-data into elemental imagines I apply Origin. This program is also used for graphical data. For the processing of pictures, photographs etc. I usually chose Adobe Photoshop.
How do you search for scientific information? How do you manage your bibliography?
Scopus is my first choice for any kind of scientific search. All the downloaded publications are then transferred into a general folder along with Ph.D. thesis or patents. These documents are listed in a special table I generated with Excel. This list presents the name of the document, authors, name of the journal, keywords etc. which facilitates my search for a certain manuscript. Since all entries are linked to the corresponding documents, each one can be opened individually by pushing the hyperlink.
What are your views on JAAS? Which type of articles do you prefer? Do you miss some content?
I published my first article in JAAS. For me as a young scientist this was an honor since JAAS is internationally regarded as one of the leading journals dealing with analytical atomic spectrometry presenting innovative research on the fundamental theory and application of spectrometric techniques. Throughout my Ph.D. it was and still is one of my first choices to look for answers related to questions arising during my scientific work. I cannot really say that I prefer a special type of article as this strongly depends on the current question I am working on. Sometimes I can find the relevant information in a review and sometimes in full papers or technical notes.
What do you like and dislike the most about your work?
I think the experiences gained throughout the Ph.D. were most valuable since they led not only to my scientific but also to my personal formation. What I most like about my work is that it gave me the possibility to strengthen my independent way of thinking as well as the capability to look beyond the own scientific horizon and open the mind for new fields. I cannot really name something that I don't like about my work, but if I had to choose something that I like less of the scientific work in general, I would say that it is the influence of politics in Science which sometime hampers the development of new ideas and projects.
What do you expect to be doing in 5 years time?
In five years I see myself working in analytical research and development outside the academic sector. I am always searching for new challenges and I am sure that real life will constantly bring up new questions the scientific world can deal with. In this vein, my aim is to contribute positively in this process trying to find solutions which improve man's life quality.
What do you enjoy doing when you are not in the lab?
During these last years I had the privilege to live in a real natural paradise surrounded by high mountains and the Atlantic Ocean, so most of my free time, especially on weekends, I went hiking with my family enjoying the peace and silence in the Nature. I also like to spend time with my friends and family, chatting while having a good meal.
Thanks a lot, Ioana!