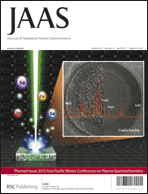 Check out the new JAAS web collection on Analytical Atomic Spectrometry in Biomedical Sciences!
All the JAAS papers included in this collection highlight the latest achievements in analytical atomic spectrometry and the applications of spectroscopy-based bioanalytical technology in clinics and biology.
To view the full list of articles, take a look at our Web Collection now!
Here are some interesting selected papers free for you to enjoy for the next four weeks. To read the full articles, please click on the links below:
Isotopic analysis of Cu in serum samples for diagnosis of Wilson's disease: a pilot study
Maite Aramendía ,  Luis Rello ,  Martín Resano and Frank Vanhaecke
J. Anal. At. Spectrom., 2013, Advance Article
DOI: 10.1039/C3JA30349G
Comparison of different chelates for lanthanide labeling of antibodies and application in a Western blot immunoassay combined with detection by laser ablation (LA-)ICP-MS
Larissa Waentig ,  Norbert Jakubowski ,  Simone Hardt ,  Christian Scheler ,  Peter H. Roos and Michael W. Linscheid
J. Anal. At. Spectrom., 2012,27, 1311-1320
DOI: 10.1039/C2JA30068K
A pilot study on the use of laser ablation-ICP-mass spectrometry for assessing/mapping the distribution of a drug and its metabolites across the body compartments of rats
Andrei Izmer ,  Deepti Gholap ,  Kathleen De Houwer ,  Filip Cuyckens and Frank Vanhaecke
J. Anal. At. Spectrom., 2012,27, 413-418
DOI: 10.1039/C2JA10343E
Solid sampling high-resolution continuum source graphite furnace atomic absorption spectrometry to monitor the biodistribution of gold nanoparticles in mice tissue after intravenous administration
M. Resano ,  E. Mozas ,  C. Crespo ,  J. Briceño ,  J. del Campo Menoyo and M. A. Belarra
J. Anal. At. Spectrom., 2010,25, 1864-1873
DOI: 10.1039/C0JA00086H
Quantitative imaging of element spatial distribution in the brain section of a mouse model of Alzheimer's disease using synchrotron radiation X-ray fluorescence analysis
Hua-Jian Wang ,  Meng Wang ,  Bing Wang ,  Xiang-Yu Meng ,  Yun Wang ,  Ming Li ,  Wei-Yue Feng ,  Yu-Liang Zhao and Zhi-Fang Chai
J. Anal. At. Spectrom., 2010,25, 328-333
DOI: 10.1039/B921201A