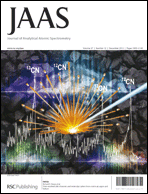 For our twelfth issue of 2012 we have two exciting covers for your interest. The outside front cover comes from Richard E. Russo at the Lawrence Berkeley National Laboratory and colleagues from the US and China who have been using laser ablation to study coal samples. The chemical composition of coal is important for optimizing boiler controls at power plants.
Time-resolved LIBS of atomic and molecular carbon from coal in air, argon and helium
Meirong Dong, Xianglei Mao, Jhanis J. Gonzalez, Jidong Lu and Richard E. Russo
J. Anal. At. Spectrom., 2012, 27, 2066-2075
DOI: 10.1039/C2JA30222E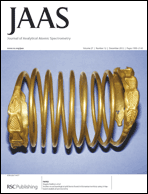 On the inside front cover we feature work from Angela Vasilescu from the Horia Hulubei National Institute of Physics and Nuclear Engineering Bucharest, who with colleagues from Romania, Italy and Germany have been studying archaeological gold items.
Their work is part of the web themed collection on Analytical atomic spectrometry in Central and Eastern Europe.
Studies on archaeological gold items found in Romanian territory using X-Ray-based analytical spectrometry
Bogdan Constantinescu, Angela Vasilescu, Daniela Stan, Martin Radtke, Uwe Reinholz, Günter Buzanich, Daniele Ceccato and Ernest Oberländer-Târnoveanu
J. Anal. At. Spectrom., 2012, 27, 2076-2081
DOI: 10.1039/C2JA30158J
Issue 12 also has a tutorial review from Richard Ortega and colleagues on the use of X-ray absorption spectroscopy with biological samples. Click on the link below to read more.
X-ray absorption spectroscopy of biological samples. A tutorial
Richard Ortega, Asuncion Carmona, Isabelle Llorens and Pier Lorenzo Solari
J. Anal. At. Spectrom., 2012, 27, 2054-2065
DOI: 10.1039/C2JA30224A
The cover articles will be free to read for 6 weeks, the review will be free to read for a fortnight. We hope you enjoy this latest issue of JAAS.