Issue 4 of JAAS is now available online.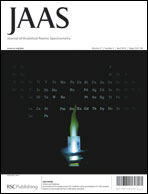 On the front of the journal this month is a picture from Joshua  R. Dettman and John W. Olesik from The Ohio State University, USA. John is actually our Regional Associate Editor for the Americas and is on our Editorial Board.  Their paper is on the use of a single element calibration standard in semi-quantitative ICP-OES analysis. Using this method they were able to measure a total of 66 elements.
Assessment of a simple partial LTE model for semi-quantitative ICP-OES analysis based on one single element calibration standard
Joshua R. Dettman and John W. Olesik
J. Anal. At. Spectrom., 2012, 27, 581-594
DOI: 10.1039/C2JA10256K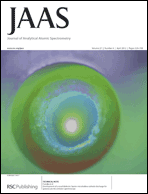 On the inside front cover we have a colourful image from Joachim Franzke and colleagues from the Leibniz-Institut für Analytische Wissenschaften in Germany. Their work has focused on the development of a new type of microhollow cathode discharge that can be used in analytical microplasma gas detection.
Development of a novel dielectric barrier microhollow cathode discharge for gaseous atomic emission spectroscopy
Cordula Meyer, Daniel Demecz, Evgeny L. Gurevich, Ulrich Marggraf, Günter Jestel and Joachim Franzke
J. Anal. At. Spectrom., 2012, 27, 677-681
DOI: 10.1039/C2JA10225K
These articles have been made free to access for 6 weeks so make the most of this and take a look!
This issue also features the following Hot articles:
Effect of a mass spectrometer interface on inductively coupled plasma characteristics: a computational study
Maryam Aghaei,  Helmut Lindner and Annemie Bogaerts
J. Anal. At. Spectrom., 2012, 27, 604-610
DOI: 10.1039/C2JA10341A
CellSpace: A module for creating spatially registered laser ablation images within the Iolite freeware environment
Bence Paul,  Chad Paton,  Ashley Norris,  Jon Woodhead,  John Hellstrom,  Janet Hergt and Alan Greig
J. Anal. At. Spectrom., 2012, 27, 700-706
DOI: 10.1039/C2JA10383D