The Royal Society of Chemistry is delighted to announce its partnership with the International Congress on Engineering and Food (ICEF14), taking place June 20-23, 2023 in Nantes, France. Our journals, Food & Function & Sustainable Food Technology, will be publishing a joint-special collection for selected themes within the scope of the conference as to showcase the broad and impactful work being presented at the conference by the worldwide community.
ICEF is a series of congress held every 4 years and is organized through the IAEF (International Association of Engineering and Food) which gathers 33 International associations and Learned societies  ICEF14 is the most prominent international congress on food processing and as such ICEF congresses gather a large audience of academia and industry from all over the world. Participants can expect a world class experience with excellent talks, research, and networking.
During the Lockdown in 2020, the truck traffic was cut to 40% of normal situation; the food industry had to keep on production and the remaining 40% of truck traffic were 30% for food + 10% for others, demonstrating the importance of the food supply chains and industry. This pandemic also demonstrated that the food logistics and by the way food preservation and storage are of extreme importance in the supply chain, with consumers expecting more local foods, meanwhile the food industry is facing increasing energy costs and by the way increasing logistic costs.
The resilience of the food supply chain is vital for the population all other the world. ICEF14 appears as an opportunity to face all these stakes and to bring together the best world's experts in food engineering, food processing and food science. Based on this challenge, the conference organisers have created an exciting program covering a wide array of topics around the Congress theme "SUSTAINABLE FOOD MANUFACTURING FOR A RESILIENT FOOD CHAIN". Several distinguished international speakers, both from academia and industry have been invited to debate around the critical role of engineers in securing human nutrition and health and support environmental sustainability.
There are 6 core scientific theme pillars throughout the conference.
---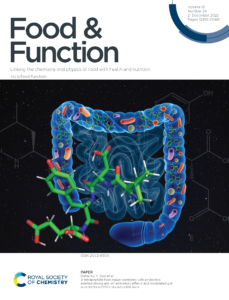 Food & Function provides a unique venue for physicists, chemists, biochemists, nutritionists and other food scientists to publish work at the interface of the chemistry, physics and  biology of food. As such, the journal will be welcoming submissions relating to Pillar 5 (Food performances, properties, digestibility & functionalities) and related themes as described below:
All aspects of research dealing with multidimensional food quality are considered here and especially those dealing with nutritional properties, i.e. gut engineering and food oral processing. The use of vegetal proteins and pulse as the impact of food supplements and diet monitoring maybe taken into account. Technological properties (handling, flowing, etc) may be considered as far as they include significant physico-chemical basis.
https://mc.manuscriptcentral.com/food
Please contact the Food & Function Editorial Office (food-rsc@rsc.org) and Dr Guy Della-Vallee (INRAe, France) will act as local Guest Editor, for more details
---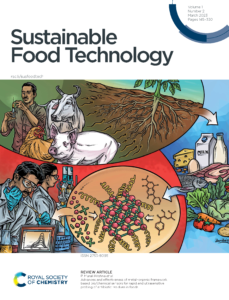 Sustainable Food Technology is a gold open access journal focused on cutting-edge strategies for food production, that aim to provide quality and safe foods in an environmentally conscious and sustainable way. As such, the journal will be welcoming submissions relating to Pillar 3 (Sustainability, food chain & decarbonisation) and related themes as described below:
All applications of circular economy, emerging concepts and methods of biorefinery, exergy, LCA, risk analysis, catering issues, new value chains (including by-product and waste processing) and mutli-criteria optimization, assessment and decision will be welcome here, as far as they are applied to the food processing chain. This pillar will also cover new sourcing and alternative to meat proteins such as leguminous, microalgae, insects and others.
https://mc.manuscriptcentral.com/susfood
Please contact the Sustainable Food Technology  Editorial Office (SusFoodTech-RSC@rsc.org). ) and Dr Emilie Korbel (Oniris Nantes, France)  who will act as local Guest Editor,  for more details
All article processing charges (APCs) are paid by the Royal Society of Chemistry until mid-2025 – so you can publish for free
---
We welcome submissions of original research articles and reviews, which (following successful peer review) will be published and added to the online special collection. Papers will receive extensive promotion throughout the submission period and also will be disseminated widely as a prominent special collection across the journals
This will become open for submissions after the conference, with a submission deadline of December 1st 2023.
We are looking forward to receiving your papers!