Food and Function is delighted to sponsor Food Structures, Digestion & Health 6th International Virtual Conference 2021, taking 16-19 November 2021.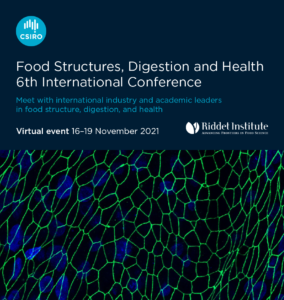 The Food Structures, Digestion and Health 6th International Conference is focused on increasing awareness that food format and food structure have a significant effect on the bio-availability of nutrients. The focus has shifted development of nutritional guidelines away from the more traditional approach of simply examining the nutrient composition of foods.
This important conference presents a unique opportunity to bring together food industry professionals, and world leading scientists – from diverse disciplines including food science, nutrition, digestive behaviour and medical science with a common interest in food design that delivers better nutrition and functionality and improves consumer wellbeing.
Registration closes: 5 November 2021
Sessions will range from Food Structures Design, Processing & Digestion to the Food Microbiome and Health, from expert speakers in their fields. The full program is available to read here.
Don't miss out on this fantastic conference. To find out more and register your place, please follow this link.