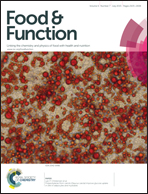 The front cover of issue 7 features artwork by Lars P. Christensen from the University of Souther Denmark. Along with his colleagues, Lars ivestigates how alcarinol and falcarindiol may represent scaffolds for novel partial PPARγ agonists with possible antidiabetic properties.
Interested to know more? Read the full article below – its free to access for the next 6 weeks!
Polyacetylenes from carrots (Daucus carota) improve glucose uptake in vitro in adipocytes and myotubes
Rime B. El-Houri, Dorota Kotowska, Kathrine B. Christensen, Sumangala Bhattacharya, Niels Oksbjerg, Gerhard Wolber, Karsten Kristiansen and Lars P. Christensen
Food Funct., 2015, 6, 2135-2144
DOI: 10.1039/C5FO00223K
---
Keep up-to-date with the latest content in Food & Function by registering for our free table of contents alerts.