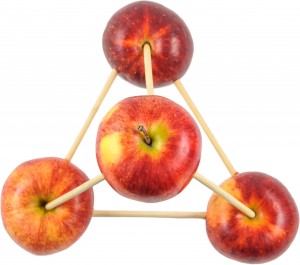 The structure of foods plays a vital role in the way foods are perceived and processed by the body.  It can direct how a food will be digested and where it will release important bioactive compounds or conversely toxic substances into the body.  It can also play an important part in foods which have been made 'healthier', like reduced fat products.   Novel structuring can enable these foods to fool our sensory organs into thinking that there is no difference in the taste or texture of the food. 
Below is a selection of high quality articles published in Food & Function in this area.  Enjoy all these articles for free!*
Hydrocolloid-based nutraceutical delivery systems, Srinivas Janaswamy and Susanne R. Youngren, Food Funct., 2012, 3, 503-507*
Salt release from potato crisps, Xing Tian and Ian D. Fisk, Food Funct., 2012, 3, 376-380**
Thermodynamic and structural insight into the underlying mechanisms of the phosphatidylcholine liposomes – casein associates co-assembly and functionality, M. G. Semenova, A. S. Antipova, M. S. Anokhina, L. E. Belyakova, Yu. N. Polikarpov, N. V. Grigorovich and E. N. Tsapkina, Food Funct., 2012, 3, 271-282*
Fibrillar structures in food, Ardy Kroes-Nijboer, Paul Venema and Erik van der Linden, Food Funct., 2012, 3, 221-227*
Development of oral food-grade delivery systems: Current knowledge and future challenges, Revital Cohen Benshitrit, Carmit Shani Levi, Sharon Levi Tal, Eyal Shimoni and Uri Lesmes, Food Funct., 2012, 3, 10-21*
Intestinal passage of microencapsulated fish oil in rats following oral administration, Mary Ann Augustin, Glen Patten, Anthony De Luca, Mahinda Abeywardena, Trevor Lockett, Richard Head and Luz Sanguansri, Food Funct., 2011, 2, 684-696
Functional and sensory properties of hen eggs with modified fatty acid compositions, H. Aro, T. Rokka, J. Valaja, J. Hiidenhovi, R. Huopalahti and E.-L. Ryhänen, Food Funct., 2011, 2, 671-677
Structure of modified ε-polylysine micelles and their application in improving cellular antioxidant activity of curcuminoids, Hailong Yu, Ji Li, Ke Shi and Qingrong Huang, Food Funct., 2011, 2, 373-380
Role of reverse micelles on lipid oxidation in bulk oils: impact of phospholipids on antioxidant activity of α-tocopherol and Trolox, Bingcan Chen, Ashley Han, Michaël Laguerre, David Julian McClements and Eric Andrew Decker, Food Funct., 2011, 2, 302-309
Interfacial design of protein-stabilized emulsions for optimal delivery of nutrients, Amir Malaki Nik, Amanda J. Wright and Milena Corredig, Food Funct., 2010, 1, 141-148
Interested in these? Why not check out our themed issue published earlier this year of contributions from the 4th Delivery of Functionality in Complex Food Systems Conference.
Submit your research in this area today to our new Associate Editor, Dr Tim Foster (University of Nottingham).
*Articles published in 2012 are free to access until the 6th October 2012.  All articles from 2010 and 2011 are free to access for an unlimited period of time.  ** Free to access via RSC Open Science.