The 4th International Conference on Delivery of Functionality in Complex Food Systems was held  this week in Guelph, Canada and I was there representing Food & Function.  The conference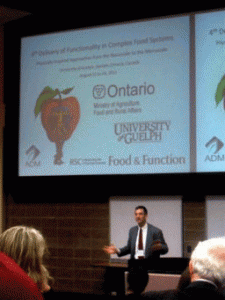 was hosted and organised by the University of Guelph with the theme of 'Physically-Inspired Approaches from the Nanoscale to the Microscale'.  The aim of this international symposium, now in its fourth year, is to focus on both basic science and functionality in food.  As such, the spotlight was firmly set on the delivery of functionality by exploring and manipulating the fundamental physical and chemical aspects of food.  This focus makes Food & Function a perfect partner and we are proud to be publishing a themed issue of research presented at the conference, due for publication in early 2012. 
Over three days world renowned speakers presented on 'Engineering Self-Assembly in Food Systems Principles and Applications', 'Novel Structures for Engineered Bioactive Delivery' and 'Food Structuring as a Means to Modulate the Physiological Response of Foods'.  The oral sessions were complemented by a poster session with over 40 contributions. Food & Function board members Job Ubbink, Julian McClements and Erik van der Linden were amongst the invited speakers and Alejandro Marangoni was chair of the organising committee.
Anna Simpson, Deputy Editor Food & Function