Research conducted by a team in Massachusetts, including Food & Function board members Julian McClements and Eric Decker, describes the effect of "reverse micelles" formed by phospholipids on the antioxidant behaviour of two compounds on stripped soybean oil (SSO).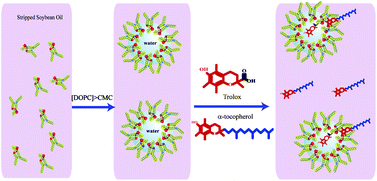 The ability to prevent oxidation of these oils is vital, as the oxidation reaction changes the flavour and quality of the lipids in an adverse way and can also result in toxic reaction products. The undesirable oxidation reaction can be triggered by many factors including exposure to light, high temperatures and high oxygen levels; however, the incorporation of antioxidant compounds to the bulk oil is a good way to prevent this.
In this study, phospholipids which can create "reverse micelle" structures were added to the bulk oil. The "reverse micelles" formed by the addition of 1,2-dioleoyl-sn-glycero-3-phosphocholine (DOPC) actually promoted lipid oxidation. However, when antioxidant compounds alpha-tocopherol and Trolox were added at low concentrations, it was observed that they both displayed higher antioxidant activity in the presence of DOPC than in the absence of DOPC. Furthermore, alpha-tocopherol is a hydrophobic antioxidant and Trolox is a hydrophilic antioxidant and the latter had better anti-oxidant activity which is thought to be related to differences in their physical position in the micelle structure.
This study shows that altering the physical micro-environments in bulk oil can complement the mode of action of specific antioxidant compounds.
To read the full article for free, please follow the link below:
Bingcan Chen, Ashley Han, Michael Laguerre, David Julian McClements and Eric Andrew Decker, Role of reverse micelles on lipid oxidation in bulk oils: impact of phospholipids on antioxidant activity of a-tocopherol and Trolox, Food Funct., 2011, DOI: 10.1039/c1fo10046g