Have you read our latest New Talent: Asia-Pacific collection? 
Guest-edited by Vadapalli Chandrasekhar, Guo-Xin Jin and Paul J. Low, this themed collection provides an opportunity for emerging talent in the Asia-Pacific region to showcase research and developing interests relevant to the scope of Dalton Transactions. In doing so, it features a broad spectrum of activity in inorganic chemistry, from biological systems to the solid-state, reflecting the strength, diversity and potential of 'Generation Next' researchers from across this part of the globe.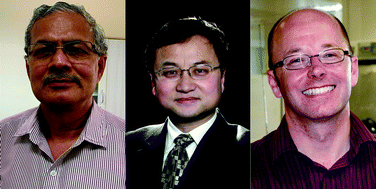 Read the full collection online here or browse a selection of articles below:
Recent advances in self-assembled amidinium and guanidinium frameworks
Nicholas G. White
Dalton Trans., 2019, 48, 7062-7068
DOI: 10.1039/C8DT05030A, Frontier
Synthesis of Bi3TaO7–Bi4TaO8Br composites in ambient air and their high photocatalytic activity upon metal loading
Kaustav Chatterjee, Maqsuma Banoo, Sanjit Mondal, Lipipuspa Sahoo and Ujjal K. Gautam
Dalton Trans., 2019, 48, 7110-7116
DOI: 10.1039/C9DT00068B, Communication
Emerging chemical tools and techniques for tracking biological manganese
Sayani Das, Kaustav Khatua, Ananya Rakshit, Asuncion Carmona, Anindita Sarkar, Subha Bakthavatsalam, Richard Ortega and Ankona Datta
Dalton Trans., 2019, 48, 7047-7061
DOI: 10.1039/C9DT00508K, Frontier
Dinuclear ruthenium acetylide complexes with diethynylated anthrahydroquinone and anthraquinone frameworks: a multi-stimuli-responsive organometallic switch
Yousuke Oyama, Reo Kawano, Yuya Tanaka and Munetaka Akita
Dalton Trans., 2019, 48, 7432-7441
DOI: 10.1039/C9DT01255A, Paper
Submit your work to Dalton Transactions– Check our website for handy tips and guidelines or find out more about the benefits of publishing with the Royal Society of Chemistry.