Biofilm growth of the bacteria, P. aeruginosa, is responsible for many chronic infections in patients and presents a major challenge for the medical industry since these bacteria are largely resistant to antibiotics, disinfectants and patients' natural immune defences.
UK scientists have developed a new antibiotic based on gallium metal ions complexed with cellulose which effectively displays antibacterial activity against biofilms of P.aeroginosa. Risk of future resistance to these antibiotics is also reduced as they work by an entirely different mechanism to traditional antibiotics.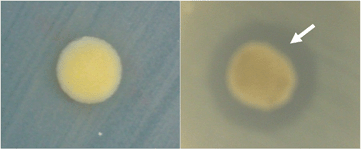 A disc diffusion assay shows the inhibitory action of the gallium-carboxymethyl cellulose on P.aeroginosa. The white arrow shows the spherical transparent inhibition zone.
This article is particularly topical considering recent UK news headlines on antibiotic resistance. Download the article now…
Effect of Novel Antibacterial Gallium-Carboxymethyl Cellulose on Pseudomonas aeruginosa
Sabeel P Valappil, Humphrey H.P. Yiu, Laurent Bouffier, Christopher Keith Hope, Gary Evans, John B Claridge,  Susan M Higham and Matthew J Rosseinsky