Prof. Shaikh M. Mobin and Dalton Transactions
This year, we are celebrating the 50th volume of Dalton Transactions by taking a look at some of our authors who have published over 50 articles in the journal. This week we learn what Dalton Transactions means to Professor Shaikh M. Mobin.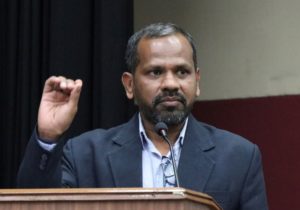 Our author at a glance:
Prof. Shaikh Mobin is based in the Department of Chemistry at the Indian Institute of Technology Indore (IIT Indore), India. His research is focused on the design and synthesis of novel MOFs and COFs, and their applications in sensing, drug delivery, energy storage and conversion, catalysis and more. He chooses to publish in Dalton Transactions because it has "the fairest review process and wide readership among traditional inorganic chemists" and is a 'bible for fundamental inorganic chemistry articles'.
Please can you summarise your most recent research published in Dalton Transactions?
Our latest research was an invited review. This invitation came to us in a very crucial time in 2020 when we all were under lockdown and this review helped us a lot in keeping the group members' momentum high and it prevented us in our worries of loss of time apart. In this review, we highlighted the recent and future prospects on mixed-metal MOFs as emerging supercapacitor candidates.
How do you intend to expand upon your research in the future?
From bench work to publications, research has been a very challenging task these days. Thus, to keep up with the pace and quality of research, we are planning to expand our research in various upcoming areas. In this regard, we have so far been able to keep a good amount of co-workers and we would like to continue to keep this trend going. We will also continue to have multi-disciplinary work within the group, and most important is to keep yourself updated with the track of ongoing research in your field.
What would you say are the biggest barriers which need to be overcome to expand your research?
The biggest barriers which I can immediately think about are (i) Research funding and (ii) state of the art research facilities. Both are correlated and with the recent pandemic, this may put up a further barrier in basic research funding. We have ideas that comprise of both fundamental research and applied research, but getting it funded is still a major hurdle and also exploring for easy accessible facilities to complete such projects is challenging. Nevertheless, that also indicates that we must have the best project proposal to compete for available funding.
You've published over 50 articles in Dalton Transactions, which of these works do you find to be most interesting/significant for our broad inorganic audience?
Our work on solid-state structural transformations (see Retention of single crystals of two Co(II) complexes during chemical reactions and rearrangement and Single-crystal to single-crystal transformations in discrete hydrated dimeric copper complexes) is always very special for me. The other most interesting work is the design and synthesis of  A novel mesoionic carbene based highly fluorescent Pd(II) complex as an endoplasmic reticulum tracker in live cells, which also appeared as cover art for Dalton.
Another area of research which I find more interesting is electrochemical sensing by employing: (i) Small biomolecule sensors based on an innovative MoS2–rGO heterostructure modified electrode and (ii) Non-enzymatic amperometric sensing of glucose by employing sucrose templated microspheres of copper oxide (CuO). All these areas of works have attracted good readership across the globe.
Outside of your own research, please suggest a Dalton Transactions article which you think has made a significant contribution to its field?
Although it's difficult to choose any one particular impactful article, if I had to suggest one article in the area of solid-state structural reactivity, I would choose the perspective by Vittal, J. J. et al on Photochemical reactions of metal complexes in the solid state, which has well written notes on this topic. Another perspective, which I personally feel has quite an impact to inorganic readership in the area of electronic structure, is Electronic structure alternatives in nitrosylruthenium complexes by Profs Kaim and Lahiri, which nicely covers the fundamental aspects of electronic structure. In optical sensing, I would suggest Triarylborane substituted naphthalimide as a fluoride and cyanide ion sensor by Misra et al., which is very interesting in this field.
What advice do you have for young researchers new to your field?
One must be aggressive in your research with checking the updated literature in your own field. As I said above, from bench work to publications, research is extremely challenging these days: for instance, you may discuss some work in your group meeting and by the time you have your next group meeting, you may see similar work has been published. Do your research planning very carefully and have a good team and give them liberty to work.
What does Dalton Transactions mean to you?
I call it a "Bible for Fundamental Inorganic Chemistry articles". It's one of my all-time favourite journals.
Why do you choose to publish in Dalton Transactions?
Dalton has the fairest review process and wide readership among traditional inorganic chemists.
What is your experience of publishing with Dalton Transactions?
It has always been satisfying and excellent.
You can check out Shaikh's most recent Dalton Transactions article on the prospects of mixed-metal MOFs as supercapacitors below.
---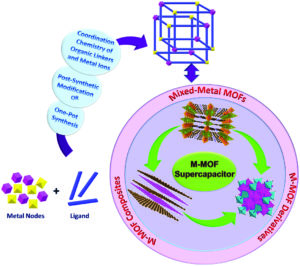 Recent highlights and future prospects on mixed-metal MOFs as emerging supercapacitor candidates
Richa Rajak, Ravinder Kumar, Shagufi Naz Ansari, Mohit Saraf and Shaikh M. Mobin*
Dalton Trans., 2020, 49, 11792-11818
---
Check out the full collection of recent research published in Dalton Transactions by all of our featured Golden Authors in our Celebrating our Golden Authors collection.