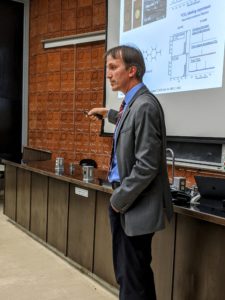 The 2019 Dalton Transactions University of California, Berkeley Lecture recipient is Professor Theodor Agapie, at the California Institute of Technology. The Lecture recognizes independent early career researchers who have made a significant contribution to the field of inorganic chemistry.
The academic selected to give the lecture receives the opportunity to present at UC Berkeley, a plaque, a $500 honorarium, a dinner and an invitation to publish in Dalton Transactions.
Theodor Agapie was born in 1979 in Bucharest, Romania. He received his B.Sc. degree from Massachusetts Institute of Technology in 2001 and his Ph.D. from California Institute of Technology in 2007. Upon completion of his Ph.D. he moved to University of California, Berkeley as a Miller Postdoctoral Fellow. Theo returned to Caltech in 2009 to start his independent career as Assistant Professor of Chemistry. He was promoted to Professor of Chemistry in December, 2014. Selected awards include the Searle Award (2010), Sloan Fellowship (2012), NSF CAREER Award (2012), ACS Award in Pure Chemistry (2013), Presidential Early Career Award for Scientists and Engineers (PECASE, 2014), and Dreyfus Teacher-Scholar Award (2014).
Previous recipients include Brandi Cossairt , Jillian Dempsey, Kit Cummins, John Hartwig, Geoff Coates, Paul Chirik, Dan Mindiola, Teri Odom, Daniel Gamelin, Trevor Hayton, Christine Thomas, Mircea Dinca, and Alison Fout.
An online collection of recent Dalton Transactions papers by recipients of the lecture can be found here.