We would like to offer a very warm welcome to our new Dalton Transactions Chair, Professor Russell Morris.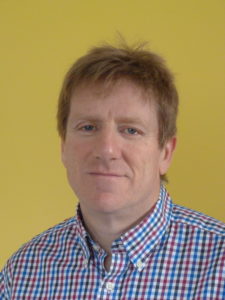 Russell Morris was born in St Asaph, North Wales and completed a DPhil at the University of Oxford. From 1991-1995 he was a postdoctoral researcher at the University of California Santa Barbara before returning to the UK to take up a position at the University of St Andrews, where he is now Professor of Structural and Materials Chemistry. His research interests lie in the synthesis, characterisation and application of porous solids. Among his notable research successes are the development of ionothermal synthesis, the chiral induction of solids built from achiral precursors, the characterisation of solids using microcrystal X-ray diffraction and the application of porous solids in medicine and biology, particularly for the delivery of biologically active gases such as nitric oxide. His recent achievements include the development of the ADOR synthesis of zeolite frameworks. He is a Fellow of the Royal Society of Edinburgh and the Learned Society of Wales. He currently holds an EPSRC Senior Fellowship.
Read a selection of Russell's latest work published by the Royal Society of Chemistry:
Insight into the ADOR zeolite-to-zeolite transformation: the UOV case
Valeryia Kasneryk, Mariya Shamzhy, Maksym Opanasenko, Paul S. Wheatley, Russell E. Morris and Jiří Čejka
Dalton Trans., 2018, 47, 3084-3092
DOI: 10.1039/C7DT03751A, Paper
A single crystal study of CPO-27 and UTSA-74 for nitric oxide storage and release
Susan E. Henkelis, Simon M. Vornholt, David B. Cordes, Alexandra M. Z. Slawin, Paul S. Wheatley and Russell E. Morris
CrystEngComm, 2019, 21, 1857-1861
DOI: 10.1039/C9CE00098D, Communication

Submit your research or reviews to Russell today, he will be delighted to receive them! – see our author guidelines for information on our article types or find out more about the advantages of publishing in a Royal Society of Chemistry journal. Don't forget to keep up to date with us on Twitter @DaltonTrans!