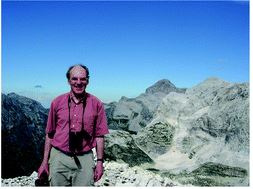 Guest-edited by Simon B. Duckett, M. Carmen Nicasio and Michael K. Whittlesey, we reccently published a special collection of Dalton Transactions to mark the 70th birthday of mentor, friend and colleague, Professor Robin Perutz FRS. The collection features areas of organometallic and coordination chemistry where Robin has contributed over the last 40+ years. Themed around the breaking of bonds, it includes both thermal and photochemical bond breakage and activation in stoichiometric and catalytic reactions. Spectroscopic characterisation of reaction intermediates features alongside experimental and computational studies of reactivity.
Check out a selection of the articles below:
The experimental determination of Th(iv)/Th(iii) redox potentials in organometallic thorium complexes
Christopher J. Inman and F. Geoffrey N. Cloke
Dalton Trans., 2019, 48, 10782-10784
DOI: 10.1039/C9DT01553A, Communication
Structural isomerism in the [(Ni@Sn9)In(Ni@Sn9)]5− Zintl ion
Chao Zhang, Harry W. T. Morgan, Zi-Chuan Wang, Chao Liu, Zhong-Ming Sun and John E. McGrady
Dalton Trans., 2019, 48, 15888-15895
DOI: 10.1039/C9DT03008E, Paper
Reversible photo-isomerization of cis-[Pd(L-κS,O)2] (HL = N,N-diethyl-N′-1-naphthoylthiourea) to trans-[Pd(L-κS,O)2] and the unprecedented formation of trans-[Pd(L-κS,N)2] in solution
Henry A. Nkabyo, Barbara Procacci, Simon B. Duckett and Klaus R. Koch
Dalton Trans., 2019, 48, 17241-17251
DOI: 10.1039/C9DT03672E, Paper
Iridium complexes featuring a tridentate SiPSi ligand: from dimeric to monomeric 14, 16 or 18-electron species
Cynthia A. Cuevas-Chávez, Laure Vendier, Sylviane Sabo-Etienne and Virginia Montiel-Palma
Dalton Trans., 2019, 48, 14010-14018
DOI: 10.1039/C9DT03136G, Paper
Transforming PPh3 into bidentate phosphine ligands at Ru–Zn heterobimetallic complexes
Niall O'Leary, Fedor M. Miloserdov, Mary F. Mahon and Michael K. Whittlesey
Dalton Trans., 2019, 48, 14000-14009
DOI: 10.1039/C9DT03106E, Paper

Submit your research or reviews to Dalton Transactions today! – see our author guidelines for information on our article types or find out more about the advantages of publishing in a Royal Society of Chemistry journal.
Keep up to date with our latest HOT articles, Reviews, Collections & more by following us on Twitter. You can also keep informed by signing up to our E-Alerts.