We would like to offer a very warm welcome to our new Dalton Transactions Associate Editor Professor Mi Hee Lim!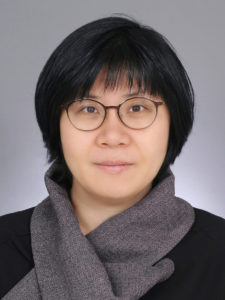 Mi Hee Lim received her BS in Chemistry from Ewha Womans University, Seoul, Korea, in 1999 and her MSc in 2001 under the direction of Professor Wonwoo Nam. In 2002, she moved to MIT where she obtained her PhD under the supervision of Professor Stephen J. Lippard. She then pursued her postdoctoral research in the laboratory of Professor Jacqueline K. Barton at Caltech. In 2008, she began her independent career as an Assistant Professor of Chemistry and Research Assistant Professor in the Life Sciences Institute at the University of Michigan, Ann Arbor, USA and in 2013, Mi Hee moved to the Ulsan National University of Science and Technology (UNIST), Ulsan, Korea, as an Associate Professor with tenure. In 2018, Mi Hee joined the Department of Chemistry at the Korea Advanced Institute of Science and Technology (KAIST), Daejeon, Korea.
Her research interests lie in bioinorganic chemistry, especially focusing on identifying how metal-involved biological networks are linked to dementia, such as Alzheimer's and Parkinson's diseases, and establishing new directions for developing chemical reagents as tools, diagnostics, and therapeutics for such diseases. Mi Hee is a Fellow of the Royal Society of Chemistry and has received numerous awards including the Society of Biological Inorganic Chemistry (SBIC) Early Career Award (2018), the Award for "30 Young Scientists of Korea" to Lead Basic Science Research for the Next 30 Years (2016), the Korean Chemical Society (KCS)-Wiley Young Scientist Award (2015), NSF CAREER Award (2013), the Alfred P. Sloan Fellowship (2012). Mi Hee is on the Editorial Advisory board for Chemical Science, Chemical Communications, Chem, and Journal of Biological Inorganic Chemistry and is an Associate Editor for Dalton Transactions.
Mi Hee recently guest edited our collection on 'The central role of the d-block metals in the periodic table' with Catherine E. Housecroft and Christine M. Thomas.
Check out the full collection here
Read a selection of Mi Hee's latest work published by the Royal Society of Chemistry:
Tunable regulatory activities of 1,10-phenanthroline derivatives towards acid sphingomyelinase and Zn(ii)–amyloid-β
Yelim Yi, Jiyeon Han, Min Hee Park, Nahye Park, Eunju Nam, Hee Kyung Jin, Jae-sung Bae and Mi Hee Lim
Chem. Commun., 2019, 55, 5847-5850
DOI: 10.1039/C9CC01005J, Communication
A dual-response sensor based on NBD for the highly selective determination of sulfide in living cells and zebrafish
Ji Hye Kang, Minuk Yang, Dongju Yun, Mingeun Kim, Hyojin Lee, Ki-Tae Kim, Mi Hee Lim and Cheal Kim
New J. Chem., 2019, 43, 4029-4035
DOI: 10.1039/C8NJ06352D, Paper
Stereochemistry of metal tetramethylcyclam complexes directed by an unexpected anion effect
Jeffrey S. Derrick, Yujeong Kim, Hyeonwoo Tak, Kiyoung Park, Jaeheung Cho, Sun Hee Kim and Mi Hee Lim
Dalton Trans., 2017, 46, 13166-13170
DOI: 10.1039/C7DT01489A, Communication

Submit your research or reviews to Mi Hee today, she will be delighted to receive them! – see our author guidelines for information on our article types or find out more about the advantages of publishing in a Royal Society of Chemistry journal. Don't forget to keep up to date with us on Twitter @DaltonTrans !