We would like to offer a very warm welcome to our new Dalton Transactions Associate Editor Professor Vadapalli Chandrasekhar!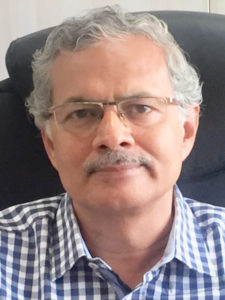 Moving from an Editorial Board member position to an Associate Editor, Professor Chandrasekhar brings a wealth of experience to his new role. He obtained his Ph.D. from the Indian Institute of Science, Bangalore, in 1982. After a post-doctoral stint at the University of Massachusetts, Amherst, he joined the Indian Institute of Technology Kanpur in 1987 and he is currently at the Tata Institute of Fundamental Research Hyderabad as a Distinguished Professor and Centre Director.
His research interests include organometallic chemistry of main-group compounds and molecular materials. His research work is documented in 360+ publications and he is a Fellow of the Indian National Science Academy in New Delhi and also the World Academy of Sciences, Trieste, Italy. He is the recipient of several awards including the Shanthi Swarup Bhatnagar Award (Council of Scientific and Industrial Research, India) and the Friedrich Wilhelm-Bessel Award (AvH Foundation, Germany).
Browse a selection of work published by Professor Chandrasekhar below:
Modulation of the nuclearity of molecular Mg(II)-phosphates: solid-state structural change involving coordinating solvents
Biswajit Santra, Ramakirushnan Suriya Narayanan, Pankaj Kalita, Vierandra Kumar, Debdeep Mandal, Vivek Gupta, Michael Zimmer, Volker Huch, Vadapalli Chandrasekhar, David Scheschkewitz,* Carola Schulzke and Anukul Jana
Dalton Trans., 2019, 48, 8853-8860
DOI: 10.1039/C9DT00687G, Paper
Phosphonate-assisted tetranuclear lanthanide assemblies: observation of the toroidic ground state in the TbIII analogue
Sourav Biswas, Pawan Kumar, Abinash Swain, Tulika Gupta, Pankaj Kalita, Subrata Kundu, Gopalan Rajaraman and Vadapalli Chandrasekhar
Dalton Trans., 2019, 48, 6421-6434
DOI: 10.1039/C9DT00592G, Paper
Mononuclear lanthanide complexes assembled from a tridentate NNO donor ligand: design of a DyIII single-ion magnet
Pankaj Kalita, Amit Malakar, Joydeb Goura, Subhashree Nayak, Juan Manuel Herrera, Enrique Colacio and Vadapalli Chandrasekhar
Dalton Trans., 2019, 48, 4857-4866
DOI: 10.1039/C9DT00504H, Paper
Heterometallic 3d–4f single molecule magnets containing diamagnetic metal ions
Amit Chakraborty, Joydeb Goura, Pankaj Kalita, Abinash Swain, Gopalan Rajaramand and Vadapalli Chandrasekhar
Dalton Trans., 2018, 47, 8841-8864
DOI: 10.1039/C8DT01883A, Perspective
Professor Chandrasakhar also recently served as a Guest Editor for our New Talent Asia-Pacific themed issue along with Professor Guo-Xin Jin and Professor Paul Low.
Submit your research or reviews to Vadapalli now, he will be delighted to receive them! – see our author guidelines for information on our article types or find out more about the advantages of publishing in a Royal Society of Chemistry journal.