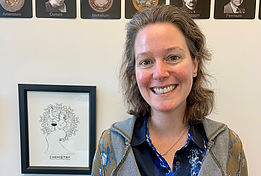 The 2018 Dalton Transactions University of California, Berkeley Lecture is Professor Brandi Cossairt, at the University of Washington. The Lecture recognizes independent early career researchers who have made a significant contribution to the field of inorganic chemistry.
The academic selected to give the lecture receives the opportunity to present at UC Berkeley, a plaque, a $500 honorarium, a dinner and an invitation to publish in Dalton Transactions.
Professor Cossairt's lecture was entitled The Chemistry of Nanoscale Phosphides: Building Complex Inorganic "Molecules" with Atom-Level Precision:
Abstract: Research in the Cossairt lab is focused on the solution-phase synthesis of chemical systems capable of sunlight absorption, color-pure emission, charge transfer, and fuels generation. Towards this end we seek to address fundamental challenges in the field of inorganic chemistry, specifically controlling the composition, structure and function of nanoscale light absorbers and catalysts, and controlling the interactions between them. This talk will focus primarily on our efforts to understand the precursor conversion reactions, nucleation and growth mechanisms, and approaches to the post-synthetic transformation of indium phosphide quantum dots for use in solid-state lighting and displays. This research has catalyzed a number of other areas of investigation including the synthesis of other pnictide-based nanomaterials for use in light harvesting and catalysis that will also be discussed.
Brandi Cossairt was born and raised in Miami, Florida. She is a first-generation college graduate, having obtained her B. S. in Chemistry from the California Institute of Technology in 2006. Brandi went on to pursue graduate studies at the Massachusetts Institute of Technology under the guidance of Professor Christopher C. Cummins and was awarded her Ph.D. in 2010. She then continued her academic career as an NIH NRSA Postdoctoral Fellow at Columbia University between 2010 and 2012 working with Professor Jonathan Owen. Brandi joined the Department of Chemistry at the University of Washington as an Assistant Professor in 2012 and was promoted to Associate Professor with Tenure in 2018. She has received a number of awards for her research including a Sloan Research Fellowship, a Packard Fellowship, an NSF CAREER Award, a Dreyfus Teacher-Scholar Award, and the National Fresenius Award from the American Chemical Society. Outside of the lab Brandi is an Associate Editor at the ACS journal Inorganic Chemistry and is the co-founder of the Chemistry Women Mentorship Network (ChemWMN).
We spoke to Professor Cossairt about what attracted her to a career in research and what excites her the most about her own research areas:
"Insatiable curiosity and a love of mentorship. I never tire of asking new questions and trying to develop strategies to answer them. Getting to share the beauty and excitement of science with the next generation is also extremely fulfilling.

It seems that every year we (the collective we) are able to make new strides in understanding phenomena that were complete black boxes. The level of mechanistic and structural understanding that is emerging in the field of colloidal inorganic nanoscience continues to boggle my mind. I am delighted to be a part of the cohort of scientists that are leading the way in developing predictive design principles for the synthesis of complex inorganic nanostructures."
And when asked what advice she would pass on, she had this advice:
"Pursue the science you love. Your excitement will be contagious and will bring others on board."
Previous recipients include Jillian Dempsey, Kit Cummins, John Hartwig, Geoff Coates, Paul Chirik, Dan Mindiola, Teri Odom, Daniel Gamelin, Trevor Hayton, Christine Thomas, Mircea Dinca, and Alison Fout.
An online collection of recent Dalton Transactions papers by recipients of the lecture can be found here.