We are delighted to highlight this selection of top downloaded articles in the field of magnetism, published since September 2017. These articles provide a valuable insight into the latest advances and trends in the area.
Marek Machata, Radovan Herchel, Ivan Nemec and Zdeněk Trávníček
Dalton Trans., 2017,46, 16294-16305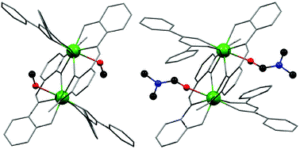 Different solvent molecules as ligands in the molecular structures of the dinuclear Ln(III) Schiff base complexes (Ln = Gd, Tb, and Dy) influenced the magnetic properties of the Dy(III) derivatives.
Maja A. Dunstan, Elodie Rousset, Marie-Emmanuelle Boulon, Robert W. Gable, Lorenzo Sorace and Colette Boskovic
Dalton Trans., 2017,46, 13756-13767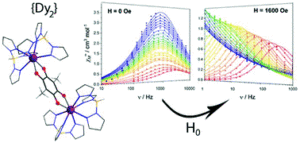 Two tetraoxolene-bridged dinuclear Dy(III) complexes exhibit slow relaxation in ac magnetic susceptibility studies with zero-field quantum tunnelling of the magnetisation that is suppressed by the application of a dc magnetic field.
Kuppusamy Senthil Kumar, Ivan Šalitroš, Zahia Boubegtiten-Fezoua, Simona Moldovan, Petra Hellwig and Mario Ruben
Dalton Trans., 2018,47, 35-40
A graphene-spin crossover (SCO) complex hybrid (Gr-SCO-A), prepared by non-covalently anchoring a pyrene tethered iron(II)-SCO complex 1 with single/few layer graphene sheets, shows persistent thermal and light induced SCO.
Satoshi Heguri and Katsumi Tanigaki
Dalton Trans., 2018,47, 2881-2895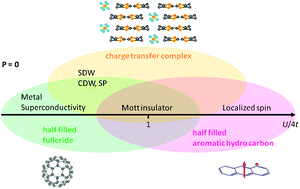 High quality bulk samples of the first four polyacenes, naphthalene, anthracene, tetracene, and pentacene, doped with alkali metal in 1:1 and 1:2 stoichiometries were prepared and their fundamental properties were systematically studied. The carrier doped typical aromatic hydrocarbons showed a large variety of properties as well as charge transfer complexes and metal doped fullerides. We open a new category in condensed matter chemistry and physics.
These articles are free to view until 31st July 2018
We do hope that you will find this selection of articles of interest and that you will consider submitting your future research papers to the journal – manuscripts can be easily submitted via our online submissions portal. See our author guidelines for information on our article types or find out more about the advantages of publishing in a Royal Society of Chemistry journal.