Posted on behalf of Liana Allen, web writer for Dalton Transactions
Picric acid is an organic compound which has an explosive power more powerful than TNT. It is widely used in munitions and explosives, but also appears in the pharmaceuticals and dye industries as a chemical reagent. Picric acid can cause several negative health effects, such as skin irritation and respiratory system damage.1 Therefore, it is an important challenge to develop sensors that can detect picric acid safely and reliably, for both the recognition of explosives and the detection of its presence as an environmental pollutant.2
The most promising method of detecting picric acid is called 'fluorescence quenching', as this is a highly sensitive and inexpensive technique. In this paper, the authors report the synthesis of a new material which can detect picric acid in this manner. Taking advantage of the reliable, rigid way the metal platinum forms complexes with other molecules ('ligands'), the authors make a novel material which naturally contains pores the correct size to accommodate picric acid molecules. Interaction of the 'ligands' and the picric acid once it has entered one of these pores induces a 'fluoresence quenching' response, allowing picric acid to be detected at very low concentrations, both in a liquid and as a gas.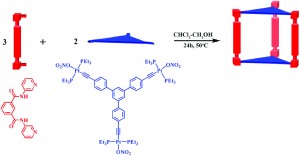 To read more, see:
PtII6 nanoscopic cages with an organometallic backbone as sensors for picric acid
Dipak Samanta and Partha Sarathi Mukherjee
Dalton Trans., 2013, Advance Article
DOI: 10.1039/C3DT52268G, Paper
1 B. Roy, A. K. Bar, B. Gole, P. S. Mukherjee, J. Org. Chem., 2013, 78, 1306.
2 M. E. Germain, M. J. Knapp, Chem. Soc. Rev., 2009, 38, 2543.
---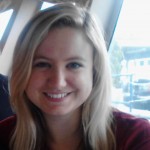 Dr. C. Liana Allen is currently a post-doctoral research associate in the group of Professor Scott Miller at Yale University, where she works on controlling the enantio- or regioselectivity of reactions using small peptide catalysts. Liana received her Ph.D. in organic chemistry at Bath University with Professor Jonathan Williams, where she worked on developing novel, efficient syntheses of amide bonds.