Developing facile and economical technologies for utilizing CO and CO2 as C1 building blocks remains a lucrative challenge, and this area has recently enjoyed a surge in interest and development.  The current paradigm for activating these abundant carbon oxides invokes reduction of the strong C-O multiple bonds, typically facilitated by low-valent transition-metal and f-element complexes, to yield oligomerized ([COx]n– ) units or (CO)-incorporated organic materials.
Polly Arnold and co-workers have recently demonstrated that the discreet U(III) tris-amide complex [U(N(SiMe3)2)3] is indeed a versatile reducing agent for such carbon oxide activation chemistry, cleanly reacting with CO to yield a stable ynediolate ([OCCO]2-) adduct which features a newly formed C-C bond.
Reporting in Dalton Transactions, Arnold and co-workers now describe a modified U(III) platform which incorporates a hemi-labile, bidentate alkoxy-tethered NHC ligand, and divergent activation of carbon oxides at U(III).  This report serves to underscore the potency of ligand design as an instrument for encouraging novel and unusual chemical transformations, in addition to describing a variety of new complexes incorporating activated carbon oxides.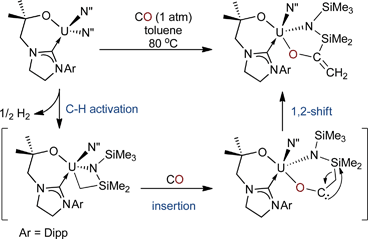 Check out the full article to read more about these divergent carbon oxide activation pathways.
Carbon monoxide and carbon dioxide insertion chemistry of f-block N-heterocyclic carbene complexes
Polly L. Arnold, Zöe R. Turner, Anne I. Germeroth, Ian J. Casely, Gary S. Nichol, Ronan Bellabarba and Robert P. Tooze
Dalton Trans., 2013, Advance Article
DOI: 10.1039/C2DT31698F