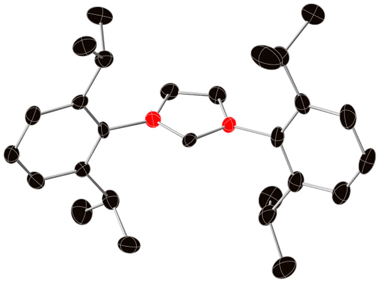 Dalton Transactions is now welcoming submissions for a themed issue in N-heterocyclic carbenes, guest edited by Dr Catherine Cazin from the University of St Andrews.
Submission deadline: 28th November 2012
N-Heterocyclic carbenes (NHCs) have become ubiquitous in coordination and organometallic chemistry and have had profound impact in homogeneous catalysis. This class of ligands has attracted significant attention during the last fifteen years, with hundreds of papers published every year, and four books dedicated to the topic. This Dalton Transactions themed issue will seek to highlight to the inorganic research community the latest and very best research in the field ranging from synthetic to applications-oriented contributions.
All article types will be considered – Communications, Full Papers, Frontiers and Perspectives. See our author guidelines for more information.
Click here to submit
Please note that inclusion in the themed issue will be subject to the guest editor's discretion. All manuscripts will undergo peer-review in accordance with the Dalton Transactions mandate.
For enquiries, please contact the Editorial Office.