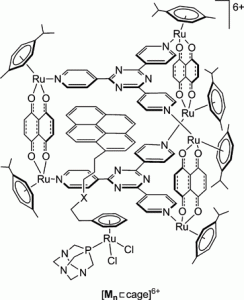 Scientists from Switzerland have developed a cage-encapsulated ruthenium complex for killing cancer cells.
The multifunctional drug has several features providing it with it's fantastic anti-cancer properties… 1)  it's ruthenium based instead of platinum (less toxic and has been shown to overcome certain resistance mechanisms induced by Pt); 2) the pyrenyl ligands can easily intercalate with the DNA base pairs; and 3) the metalla-cage bestows water-solubility on the drug therefore enabling it to be internalised within the cancerous cells.
Not only that, the pyrene moiety is fluorescent so the uptake of the drug into the cell can be recorded in action.
Read the HOT article by Bruno Therrien and team now…
Cellular delivery of pyrenyl-arene ruthenium complexes by a water-soluble arene ruthenium metalla-cage
Mona Anca Furrer, Frédéric Schmitt, Michaël Wiederkehr, Lucienne Juillerat-Jeanneret and Bruno Therrien