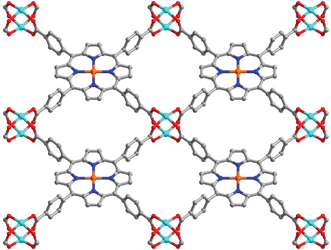 If you're interested in finding out more about MOFs, and in particular those based on metalloporphyrins, then look no further… Chao Zou and Chuan-De Wu's recent Perspective article provides an interesting overview of these functional materials. The researchers from Zhejiang University, China, discuss synthetic strategies and applications ranging from hydrogen storage to photocatalysis. Although the application of porphyrinic MOFs is considerably underdeveloped compared to other porphyrinic materials, say Zou and Wu, this article demonstrates that metalloporphyrins are an ideal choice for designing crystalline solid frameworks.
To read more, download the article now – it's free to access.
Functional porphyrinic metal–organic frameworks: crystal engineering and applications
This Perspective article is part of the upcoming themed issue on Coordination Chemistry in the Solid State, guest edited by Dalton Transactions Associate Editor, Russell Morris. Keep your eyes peeled for many of our other coordination chemistry articles which have already been published, including Burnett and Choe's Perspective article on "Sequential self-assembly in metal–organic frameworks".