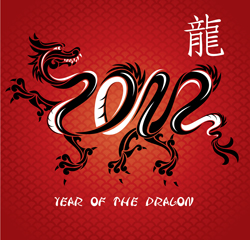 The Dalton Transactions team wishes you every success in the Year of the Dragon, and we hope that you enjoy your New Year holiday.
In celebration we have made these recently promoted Dalton Transactions Hot articles free to access for the whole of February:
Ba2AgInS4 and Ba4MGa5Se12 (M = Ag, Li): syntheses, structures, and optical properties
Wenlong Yin, Kai Feng, Dajiang Mei, Jiyong Yao, Peizhen Fu and Yicheng Wu
DOI: 10.1039/C2DT11895E
Synthesis and properties of a dendritic FRET donor–acceptor system with cationic iridium(III) complex core and carbazolyl periphery
Yanfang Li, Yang Liu and Ming Zhou
DOI: 10.1039/C1DT11716E
Three novel Bi(III) complexes with in situ generated anilate ligands: unusual oxidation of cyclohexanedione to dihydroxy benzoquinone
Hui Gao and Xian-Ming Zhang
DOI: 10.1039/C1DT11258A
(Zn, Mg)2GeO4:Mn2+ submicrorods as promising green phosphors for field emission displays: hydrothermal synthesis and luminescence properties
Mengmeng Shang, Guogang Li, Dongmei Yang, Xiaojiao Kang, Chong Peng, Ziyong Cheng and Jun Lin
DOI: 10.1039/C1DT10673B
Dalton Transactions supports an online virtual web community for inorganic chemists, providing links to international research groups, conferences and events, and highlighting the latest research in the field. Be a part of this by accessing the Dalton Transactions blog, following us on twitter or signing up to our e-alert service.

Images courtesy of Shutterstock