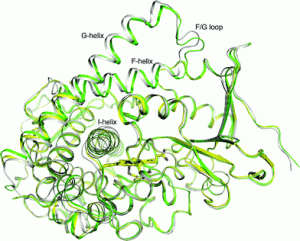 In a collaboration between researchers at the University of Oxford, Nankai University and Tsinghua University, Luet-Lok Wong and colleagues determined the substrate-free crystal structure of a variant of CYP102A1 (P450BM3) with generic activity-enhancing properties (KT2).
The electronic properties and the catalytic behaviour of KT2 were investigated and the authors proposed that the rate accelerating properties arise from the substrate-free form being in a catalytically ready conformation, such that substrate-induced changes to the structure play a less significant role in promoting the first electron transfer than in the Wild Type.
This Hot Article will be included in a themed issue of the journal to celebrate 40 years of Dalton Transactions.
Read more for FREE until 22nd June 2011:
Structure, electronic properties and catalytic behaviour of an activity-enhancing CYP102A1 (P450BM3) variant
Christopher J. C. Whitehouse, Wen Yang, Jake A. Yorke, Henry G. Tufton, Lydia C. I. Ogilvie, Stephen G. Bell, Weihong Zhou, Mark Bartlam, Zihe Rao and Luet-Lok Wong
Dalton Trans., 2011, Advance Article
DOI: 10.1039/C1DT10098J, Paper