Inactive platinum complexes can be transformed into exciting anticancer compounds by coupling them with testosterone using a quick and simple method, claim UK scientists. This could pave the way for new target specific anticancer drugs.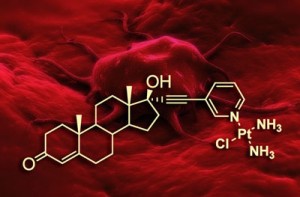 Platinum compounds cisplatin, carboplatin and oxaliplatin are commonly used to treat cancer. But these drugs can only treat a limited number of tumours and some types of cancer are now showing resistance. The drugs are also highly toxic and cause unwanted side effects. Drugs that target the site of disease without harming healthy tissue are better and have been explored by using the sex hormone oestrogen attached to a Pt compound. These target oestrogen receptors which are over-expressed in most breast cancer tumours. 
Read more of Carl Saxton's story on these exciting papers here.
Or read the Dalton Transactions articles for FREE!
An androgenic steroid delivery vector that imparts activity to a non-conventional platinum(II) metallo-drug
Martin Huxley, Carlos Sanchez-Cano, Michael J. Browning, Carmen Navarro-Ranninger, Adoracion G. Quiroga, Alison Rodger and Michael J. Hannon
Dalton Trans., 2010 DOI: 10.1039/c0dt00838a
Conjugation of testosterone modifies the interaction of mono-functional cationic platinum(II) complexes with DNA, causing significant alterations to the DNA helix
Carlos Sanchez-Cano, Martin Huxley, Cosimo Ducani, Amal E. Hamad, Michael J. Browning, Carmen Navarro-Ranninger, Adoracion G. Quiroga, Alison Rodger and Michael J. Hannon
Dalton Trans., 2010 DOI: 10.1039/c0dt00839g