Thomson Reuters have just released their latest citation data and Chemical Society Reviews' (Chem Soc Rev) Impact Factor has risen to a record high of 30.425!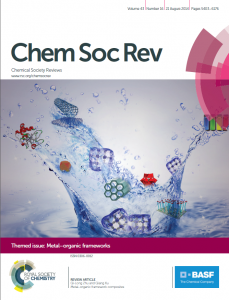 With a truly international authorship publishing accessible and reader-friendly articles, Chem Soc Rev really is the home of high impact reviews from across the chemical sciences. You can read our most highly cited review articles listed below.
Thank you to all who have contributed to the journal's success so far – our authors, referees, readers and Editorial and Advisory Boards – we are very grateful for your support.
Find out how other Royal Society of Chemistry journals are ranked in the latest Impact Factor release
Top cited Chem Soc Rev reviews:
Reviews
Graphene-based composites
Xiao Huang, Xiaoying Qi, Freddy Boey and Hua Zhang
A review of electrode materials for electrochemical supercapacitors
Guoping Wang, Lei Zhang and Jiujun Zhang
Graphene-based semiconductor photocatalysts
Quanjun Xiang, Jiaguo Yu and Mietek Jaroniec
C–C, C–O and C–N bond formation via rhodium(III)-catalyzed oxidative C–H activation
Guoyong Song, Fen Wang and Xingwei Li  
From themed collection C-H Functionalization
Upconversion nanophosphors for small-animal imaging
Jing Zhou, Zhuang Liu and Fuyou Li
The golden age: gold nanoparticles for biomedicine
Erik C. Dreaden, Alaaldin M. Alkilany, Xiaohua Huang, Catherine J. Murphy and Mostafa A. El-Sayed  
From themed collection Nanomedicine
Fluorescent indicators based on BODIPY
Noël Boens, Volker Leen and Wim Dehaen
Mechanochemistry: opportunities for new and cleaner synthesis
Stuart L. James, Christopher J. Adams, Carsten Bolm, Dario Braga, Paul Collier, Tomislav Friščić, Fabrizia Grepioni, Kenneth D. M. Harris, Geoff Hyett, William Jones, Anke Krebs, James Mack, Lucia Maini, A. Guy Orpen, Ivan P. Parkin, William C. Shearouse, Jonathan W. Steed and Daniel C. Waddell
Tutorial Reviews
Mesoporous silica nanoparticles in biomedical applications
Zongxi Li, Jonathan C. Barnes, Aleksandr Bosoy, J. Fraser Stoddart and Jeffrey I. Zink  
From themed collection Nanomedicine
Organocatalytic umpolung: N-heterocyclic carbenes and beyond
Xavier Bugaut and Frank Glorius
Mesoporous metal–organic framework materials
Weimin Xuan, Chengfeng Zhu, Yan Liu and Yong Cui
*The Impact Factor provides an indication of the average number of citations per paper. Produced annually, Impact Factors are calculated by dividing the number of citations in a year, by the number of citeable articles published in the preceding two years. Data based on 2013 Journal Citation Reports®, (Thomson Reuters, 2014).