We are delighted to announce that the Physical Chemistry Chemical Physics (PCCP) themed issue Benchmark Experiments for Numerical Quantum Chemistry is now online and free to access until the end of January 2024.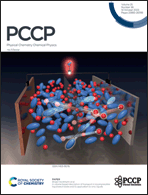 Benchmarking is a core activity in the development of quantum chemical methods. This is something which is recognized across the different fields of application but the scope of benchmarking and the processes behind it are often times a matter of discussion.
Guest Edited by Ricardo Mata (University of Göttingen), Martin Suhm (University of Göttingen) and Anne Zehnacker (University of Paris – Saclay), this collection is dedicated to the different facets of experimental benchmarking activities and their consequences for quantum chemical predictions.
Read the full issue online
It includes:
Editorial
Benchmark experiments for numerical quantum chemistry
Ricardo A. Mata, Anne Zehnacker-Rentien and Martin A. Suhm
Phys. Chem. Chem. Phys., 2023, 25, 26415-26416. DOI: 10.1039/D3CP90186F
Perspective
Setting up the HyDRA blind challenge for the microhydration of organic molecules
Taija L. Fischer, Margarethe Bödecker, Anne Zehnacker-Rentien, Ricardo A. Mata and Martin A. Suhm
Phys. Chem. Chem. Phys., 2022, 24, 11442-11454. DOI: 10.1039/D2CP01119K
Review
On the vibrations of formic acid predicted from first principles
Anna Klára Kelemen and Sandra Luber
Phys. Chem. Chem. Phys., 2022, 24, 28109-28120. DOI: 10.1039/D2CP04417J
Paper
Reliable prediction of association (free) energies of supramolecular complexes with heavy main group elements – the HS13L benchmark set
Johannes Gorges, Stefan Grimme and Andreas Hansen
Phys. Chem. Chem. Phys., 2022, 24, 28831-28843. DOI: 10.1039/D2CP04049B
Paper
Accuracy of quantum chemistry structures of chiral tag complexes and the assignment of absolute configuration
Kevin Mayer, Channing West, Frank E. Marshall, Galen Sedo, Garry S. Grubbs, Luca Evangelisti and Brooks H. Pate
Phys. Chem. Chem. Phys., 2022, 24, 27705-27721. DOI: 10.1039/D2CP04060C
Paper
Cation-responsive cavity expansion of valinomycin revealed by cryogenic ion trap infrared spectroscopy
Keisuke Hirata, Eiko Sato, James M. Lisy, Shun-Ichi Ishiuchi and Masaaki Fujii
Phys. Chem. Chem. Phys., 2023, 25, 1075-1080. DOI: 10.1039/D2CP04570B
We hope you enjoy reading the articles. Please get in touch if you have any questions about this themed collection or PCCP.