PCCP would like to welcome Ruth Signorell as our newest Associate Editor for 2016.
Ruth Signorell has been Professor at the Department of Chemistry and Applied Biosciences at ETH Zurich since November 2012. Her research group works in the area of spectroscopy of clusters and aerosol particles. The current focus is on photoelectron spectroscopy and optical trapping of single aerosol particles. Before coming to ETH Zurich she was a Professor at the University of British Columbia in Vancouver (2005-2012) and an Assistant Professor at the Georg-August-Universität Göttingen (2002-2005). She was an undergraduate student at ETH Zurich, where she also received her PhD.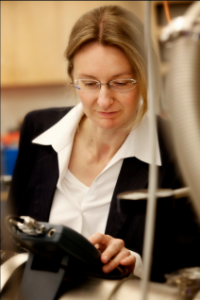 Professor Signorell says of her appointment;
"PCCP has made a continuous effort to ensure competent and fair review processes. After serving for many years on the Advisory Board of PCCP, I am now very much looking forward to becoming even deeper involved in the process itself as an Associate Editor."
Read Professor Signorell's  most recent PCCP article here:
Ultraviolet broadband light scattering for optically-trapped submicron-sized aerosol particles
Grégory David, Kıvanç Esat, Irina Ritsch and Ruth Signorell
Phys. Chem. Chem. Phys., 2016, 18, 5477-5485
DOI: 10.1039/C5CP06940H, Paper
A pulsed uniform Laval expansion coupled with single photon ionization and mass spectrometric detection for the study of large molecular aggregates
Bernhard Schläppi, Jessica H. Litman, Jorge J. Ferreiro, David Stapfer and Ruth Signorell
Phys. Chem. Chem. Phys., 2015, 17, 25761-25771
DOI: 10.1039/C5CP00061K, Paper
Timescales of water transport in viscous aerosol: measurements on sub-micron particles and dependence on conditioning history
Jessica W. Lu, Andrew M. J. Rickards, Jim S. Walker, Kerry J. Knox, Rachael E. H. Miles, Jonathan P. Reid and Ruth Signorell
Phys. Chem. Chem. Phys., 2014, 16, 9819-9830
DOI: 10.1039/C3CP54233E, Paper
On behalf of Professor Signorell and the rest of our Editorial Board, we would like to invite you to submit your best work to PCCP.