The Gordon Research Conference on Dynamics at Surfaces was held at  Salve Regina University on the 11-16th August 2013.
The meeting was a great success with over 100 attendees. A huge proportion of these – 60 – participated in the Young Investigator Competition. PCCP sponsored the three winners of the competition to attend the meeting and they gave their excellent oral presentations on the final night.
The winners were:
Joerg Meyer (2nd from left), TU MUENCHEN, Non Adiabatic Vibrational Damping of O2 on Ag(100): Implications for Light Enhanced Catalysis.
Jennifer Faust (center), UNIVERSITY OF WISCONSIN-MADISON, Surfactant Promoted Reactions at Gas Liquid Interfaces: Startling Implications for Tropospheric Aerosol Chemistry
Morten Hundt (2nd from right), ECOLE POLYTECHNIQUE FÉDÉRALE DE LAUSANNE, Vibrationally Promoted Chemisorption  of Water on Ni(111)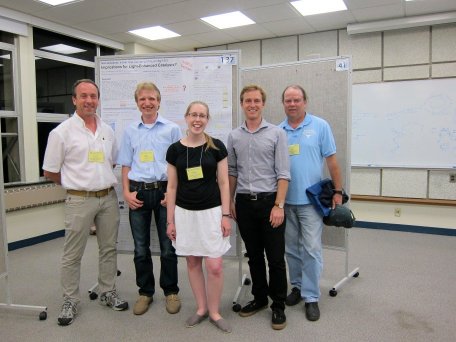 Congratulations winners!