| | |
| --- | --- |
| Physical Chemistry Chemical Physics (PCCP) is a journal for high quality research in physical chemistry, chemical physics and biophysical chemistry. As PCCP is co-owned by 19 chemistry, physical chemistry and physics societies from around the world, you can reach a wider readership when you publish in this journal. Each Owner Society is committed to delivering a trusted and valuable experience to the scientific community. | |
This year, we're celebrating the 25th volume of PCCP. A lot has changed since our first issue – PCCP was launched by four international chemistry and physical chemistry societies, but over the years, another 15 learned societies joined this journal. In 2023, our community is now represented by an internationally renowned editorial board, comprising of 14 associate editors carefully selected by our 19 Owner Societies. With their support, we have published 45,000 articles from over 120 countries to date.
A quick look at the difference from 1999 to 2023: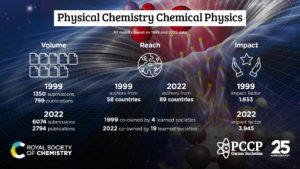 "I was thrilled to be involved in the launch of PCCP and to be working in partnership with the four founding societies and their member communities. At launch, there was much excitement for PCCP to become the one umbrella journal for the publication of the best research in all fields within physical chemistry and chemical physics. From the very first issue, PCCP received amazing support from authors, reviewers and readers, and I am proud to have had a role in helping the community to establish this unique and multidisciplinary journal."
Susan Weatherby, Launch Editor for PCCP in 1999
What does the future hold?
PCCP has always been a home for work from across the breadth of physical chemistry, chemical physics and biophysical chemistry, in both experimental and theoretical fields. Based on our experience with computational and quantum chemistry, PCCP now warmly welcomes research in the areas of quantum computing, machine learning, data science and artificial intelligence.
You can now read and publish tutorial reviews in PCCP. Learn about the first PCCP tutorial review, written by 2023 Tilden Prize winner Julie MacPherson and colleagues. If you have a great idea for a tutorial review, please visit our homepage for further information.
We have recently published some exceptional themed collections, and we have open calls for new themed collections on topics from "Molecular dynamics in the gas phase" through to "Physical chemistry of the energy transition".
In 2024, we invite you to join us for the PCCP 25th anniversary symposium in Amsterdam on 1–2 May. The programme features internationally renowned speakers from our editorial and advisory boards, as well as the PCCP Owner Societies. It will be a chance for you to network with the community, be part of some exciting discussions, and celebrate 25 years of PCCP.
Discover more about PCCP in our video and explore our latest issue.