We are delighted to announce that the Physical Chemistry Chemical Physics (PCCP) themed issue Festschrift Wolfgang E. Ernst: Electronic & Nuclear Dynamics in Molecules, Clusters, and on Surfaces themed collection is now online and free to access until the beginning of September 2023.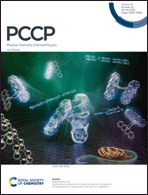 This Festschrift themed collection is dedicated to the recent studies of electronic and nuclear features of molecules and new materials, their structure and dynamics, interplay and coupling mechanisms in honour of Professor Wolfgang Ernst's 70th birthday. The understandings of structural and dynamic properties of molecular systems, paired with new experimental possibilities in the time domain and femtosecond chemistry, help in the development of technologies in fields such as renewable energies and energy conversion, data processing and storage, or chemical sensing and catalysis.
Guest Edited by Martina Havenith, Martin Sterrer, Andreas W. Hauser and Markus Koch, this collection reviews the very recent achievements in electronic and nuclear dynamics in molecules, ions and on surfaces.
It includes:
Editorial
Festschrift for Wolfgang E. Ernst – electronic and nuclear dynamics and their interplay in molecules, clusters and on surfaces
Andreas W. Hauser, Martina Havenith, Markus Koch and Martin Sterrer
Phys. Chem. Chem. Phys., 2023, 25, 11880-11882. DOI: 10.1039/D3CP90052E
Review Article
Perspectives on weak interactions in complex materials at different length scales
J. Fiedler, K. Berland, J. W. Borchert, R. W. Corkery, A. Eisfeld, D. Gelbwaser-Klimovsky, M. M. Greve, B. Holst, K. Jacobs, M. Krüger, D. F. Parsons, C. Persson, M. Presselt, T. Reisinger, S. Scheel, F. Stienkemeier, M. Tømterud, M. Walter, R. T. Weitz and J. Zalieckas
Phys. Chem. Chem. Phys., 2023, 25, 2671-2705. DOI: 10.1039/D2CP03349F
Paper
A neural network potential energy surface and quantum dynamics studies for the Ca+(2S) + H2 → CaH+ + H reaction
Zijiang Yang, Hanghang Chen, Ye Mao and Maodu Chen
Phys. Chem. Chem. Phys., 2022, 24, 19209-19217. DOI: 10.1039/D2CP02711A
Paper
Ultrafast proton transfer of the aqueous phenol radical cation
Muhammad Shafiq Bin Mohd Yusof, Hongwei Song, Tushar Debnath, Bethany Lowe, Minghui Yang and Zhi-Heng Loh
Phys. Chem. Chem. Phys., 2022, 24, 12236-12248. DOI: 10.1039/D2CP00505K
Paper
Relaxation dynamics in excited helium nanodroplets probed with high resolution, time-resolved photoelectron spectroscopy
A. C. LaForge, J. D. Asmussen, B. Bastian, M. Bonanomi, C. Callegari, S. De, M. Di Fraia, L. Gorman, S. Hartweg, S. R. Krishnan, M. F. Kling, D. Mishra, S. Mandal, A. Ngai, N. Pal, O. Plekan, K. C. Prince, P. Rosenberger, E. Aguirre Serrata, F. Stienkemeier, N. Berrah and M. Mudrich
Phys. Chem. Chem. Phys., 2022, 24, 28844-28852. DOI: 10.1039/D2CP03335F
We hope you enjoy reading the articles. Please get in touch if you have any questions about this themed collection or PCCP.