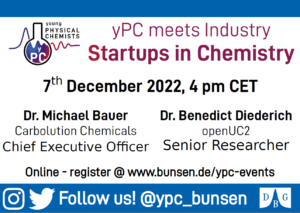 Physical Chemistry Chemical Physics (PCCP) is co-owned by 19 national physical chemistry and physics societies from around the world, including the Deutsche Bunsen-Gesellschaft (DBG), the German Bunsen Society for Physical Chemistry.
On behalf of PCCP and the young Physical Chemists, the early career network of the German Bunsen Society for Physical Chemistry, we invite you to their upcoming online seminar series "yPC Meets Industry". In the course of this series, industry representatives will present their work profiles as physical chemists and you will have the option to ask them any question you'd like!
To kick things off this winter term, yPC will start with a talk on Start-ups in Chemistry. Dr. Michael Bauer (Carbolution Chemicals CmbH) and Dr. Benedict Diederich (openUC2 GmbH) will share their experiences on starting a company based on their research ideas – from the initial brainstorming to the first business plan! We hope this will serve as inspiration to many in attendance on how to bring their research ideas out into the world!
The lecture will take place on December 7 2022, 4 pm (CEST) via Zoom. Please register here and you will receive the link shortly before the seminar.
PCCP also invite you on behalf of DBG and yPC to join their mailing list to not miss any future updates on online seminars, award announcements and job postings.
See you next week!
Keep up with the latest news and developments from PCCP. Sign up for email alerts and explore our latest publications.