We are delighted to announce that the Physical Chemistry Chemical Physics (PCCP) themed collection Insights into 2D Materials is now online and free to access until the end of February 2023.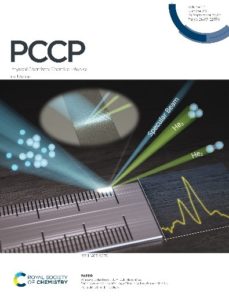 The scope of this collection covers topics including, but not limited to, physical and chemical properties of 2D materials, synthesis techniques, structural characterization, 2D and mixed-dimensional heterostructures, functionalization of 2D materials, flexible 2D devices, new novel 2D materials, and applications of 2D materials in biological systems, chemical sensing, and energy technologies.
Guest Edited by Professor Hui Zhao and Professor Sunmin Ryu, this collection aims to provide new insights into 2D materials from theoretical, computational, and experimental communities.
Read the full collection online
It includes:
Editorial
Insights into 2D materials
Hui Zhao and Sunmin Ryu
Phys. Chem. Chem. Phys., 2022, 24, 16940-16941. DOI: 10.1039/D2CP90105F
Perspective
Recent trends in covalent functionalization of 2D materials
Jae Hwan Jeong, Sojung Kang, Namwon Kim, Rakesh Joshi and Gwan-Hyoung Lee
Phys. Chem. Chem. Phys., 2022, 24, 10684-10711. DOI: 10.1039/D1CP04831G
Perspective
Studying 2D materials with advanced Raman spectroscopy: CARS, SRS and TERS
Leandro M. Malard, Lucas Lafeta, Renan S. Cunha, Rafael Nadas, Andreij Gadelha, Luiz Gustavo Cançado and Ado Jorio
Phys. Chem. Chem. Phys., 2021, 23, 23428-23444. DOI: 10.1039/D1CP03240B
Paper
Single sheets of graphene for fabrication of fibers with enhanced mechanical properties
Muhammad G. Salim, Luke A. Thimons, Min A. Kim, Brennan Carr, Michelle Montgomery, Nathan Tolman,a Tevis D. B. Jacobs and Haitao Liu
Phys. Chem. Chem. Phys., 2021, 23, 23124-23129. DOI: 10.1039/D1CP03238K
Paper
Charge-transfer dynamics in van der Waals heterojunctions formed by thiophene-based semiconductor polymers and exfoliated franckeite investigated from resonantly core-excited electron
Yunier Garcia-Basabe, David Steinberg, Lara M. Daminelli, Cesar D. Mendoza, E. A. Thoroh de Souza, Flavio C. Vicentin and Dunieskys G. Larrudé
Phys. Chem. Chem. Phys., 2021, 23, 16795-16805. DOI: 10.1039/D1CP01694F
Paper
Exploring the emerging of electronic and magnetic properties with adatom adsorption on a novel semiconductor monolayer: N2P6
Xinle Lu, Liaoxin Sun, Bing Fu, Shoutian Sun and Xiang Ye
Phys. Chem. Chem. Phys., 2021, 23, 22045-22056. DOI: 10.1039/D1CP03211A
We hope you enjoy reading the articles. Please get in touch if you have any questions about this themed collection or PCCP.