PCCP Quantum Computing and Quantum Information Storage themed collection now online!
We are delighted to announce that the Physical Chemistry Chemical Physics (PCCP) themed collection Quantum Computing and Quantum Information Storage is now online and free to access until the end of June 2021.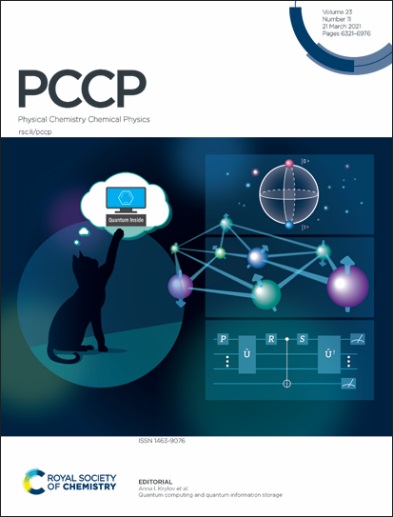 Quantum computing and information storage promise to revolutionize our information technology. Some basic theory of quantum computing has been established over the past two decades and researchers are on the cusp of quantum supremacy for truly useful systems. Yet, for quantum computing to become a reality we need to find a practical physical platform for realizing qubits with enough fidelity and depth to solve important problems. At present it is not clear what platform will succeed at this.
Guest Edited by Professor John Doyle, Professor Anna Krylov and Professor Kang-Kuen Ni, this collection highlights physical chemistry and chemical physics aspects of quantum computing and quantum information storage. We hope you enjoy reading the articles. Please get in touch if you have any questions about this themed collection or PCCP.
Read the full collection online
It includes:
Editorial
Quantum Computing and Quantum Information Storage
Anna I. Krylov, John Doyle and Kang-Kuen Ni
Phys. Chem. Chem. Phys., 2021, 23, 6341-6343. DOI: 10.1039/D1CP90024B
Paper
In search of molecular ions for optical cycling: a difficult road
Maxim V. Ivanov, Thomas-C. Jagau, Guo-Zhu Zhu, Eric R. Hudson and Anna I. Krylov
Phys. Chem. Chem. Phys., 2020, 22, 17075-17090.  DOI: 10.1039/D0CP02921A
Paper
First-principles studies of strongly correlated states in defect spin qubits in diamond
He Ma, Nan Sheng, Marco Govoni and Giulia Galli
Phys. Chem. Chem. Phys., 2020, 22, 25522-25527. DOI: 10.1039/D0CP04585C
Paper
Coherent manipulation of the internal state of ultracold 87Rb133Cs molecules with multiple microwave fields
Jacob A. Blackmore, Philip D. Gregory, Sarah L. Bromley and Simon L. Cornish
Phys. Chem. Chem. Phys., 2020, 22, 27529-27538. DOI: 10.1039/D0CP04651E
Paper
Magnetic anisotropy in YbIII complex candidates for molecular qubits: a theoretical analysis
Martín Amoza, Silvia Gómez-Coca and Eliseo Ruiz
Phys. Chem. Chem. Phys., 2021, 23, 1976-1983. DOI: 10.1039/D0CP05422D