We are delighted to announce that the inaugural Physical Chemistry Chemical Physics Emerging Investigators 2020 collection is now online and free to access until the end of February 2021!
The collection brings together excellent research carried out around the world by early career scientists in physical chemistry, chemical physics and biophysical chemistry. As outstanding researchers in the early stages of their independent careers, each contributor was nominated for the PCCP Emerging Investigator Lectureship and invited to contribute to this themed collection by the Editorial Board.
We congratulate those whose work is featured and hope you enjoy reading their contributions.
Read the full collection online for FREE
It includes:
Profile
Physical Chemistry Chemical Physics profiles: contributors to the Emerging Investigators 2020 issue
Phys. Chem. Chem. Phys., 2020, 22, 24835-24841. DOI: 10.1039/D0CP90238A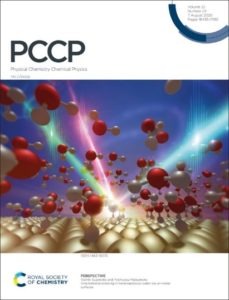 Perspective
Cold and controlled chemical reaction dynamics
Jutta Toscano, H. J. Lewandowski and Brianna R. Heazlewood
Phys. Chem. Chem. Phys., 2020, 22, 9180-9194. DOI: 10.1039/D0CP00931H
Communication
A rotational study of the AlaAla dipeptide
I. León, E. R. Alonso, S. Mata and  J. L. Alonso
Phys. Chem. Chem. Phys., 2020, 22, 13867-13871. DOI: 10.1039/D0CP01043J
Paper
A molecular perspective on Tully models for nonadiabatic dynamics
Lea M. Ibele and Basile F. E. Curchod
Phys. Chem. Chem. Phys., 2020, 22, 15183-15196. DOI: 10.1039/D0CP01353F
Paper
Full triples contribution in coupled-cluster and equation-of-motion coupled-cluster methods for atoms and molecules in strong magnetic fields
Florian Hampe, Niklas Gross and Stella Stopkowicz
Phys. Chem. Chem. Phys., 2020, 22, 23522-23529. DOI: 10.1039/D0CP04169F
Paper
The one-electron self-interaction error in 74 density functional approximations: a case study on hydrogenic mono- and dinuclear systems
Dale R. Lonsdale and Lars Goerigk
Phys. Chem. Chem. Phys., 2020, 22, 15805-15830. DOI: 10.1039/D0CP01275K