Deputy Chair Anouk Rijs has selected some outstanding research to share with you from Physical Chemistry Chemical Physics (PCCP). Read them now for free until the end of January 2021!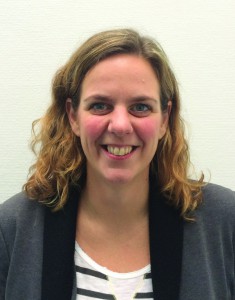 Professor Anouk Rijs is the chair of Analytics of Biomolecular Interactions of the Division of BioAnalytical Chemistry at the Vrije Universiteit Amsterdam (NL). She is an expert on IR action spectroscopy combined with mass spectrometry for structural characterization of biomolecules such as peptides and carbohydrates. Her work focuses predominantly on the understanding of the complex mechanism of amyloid forming polypeptides related to pathogenic neurodegenerative diseases and functional amyloids by advancing mass spectrometry and spectroscopic methods.
Submit your research to Anouk here
Read Anouk's choices for free now:
Paper
Mapping the intrinsic absorption properties and photodegradation pathways of the protonated and deprotonated forms of the sunscreen oxybenzone
Natalie G. K. Wong, Jacob A. Berenbeim, Mathew Hawkridge, Edward Matthews and Caroline E. H. Dessent
Phys. Chem. Chem. Phys., 2019, 21, 14311-14321. DOI: 10.1039/C8CP06794E
Paper
Benchmarking a new segmented K-band chirped-pulse microwave spectrometer and its application to the conformationally rich amino alcohol isoleucinol
Mariyam Fatima, Cristóbal Pérez, Benjamin E. Arenas, Melanie Schnell and Amanda L. Steber
Phys. Chem. Chem. Phys., 2020, 22, 17042-17051. DOI: 10.1039/D0CP01141J
Perspective
Cold and controlled chemical reaction dynamics
Jutta Toscano, H. J. Lewandowski and Brianna R. Heazlewood
Phys. Chem. Chem. Phys., 2020, 22, 9180-9194. DOI: 10.1039/D0CP00931H
Paper
Spectroscopic diagnostic for the ring-size of carbohydrates in the gas phase: furanose and pyranose forms of GalNAc
Baptiste Schindler, Laurent Legentil, Abdul-Rhaman Allouche, Vincent Ferrières and Isabelle Compagnon
Phys. Chem. Chem. Phys., 2019, 21, 12460-12467. DOI: 10.1039/C8CP04082F
Paper
Differentiation of peptide isomers by excited-state photodissociation and ion–molecule interactions
Brielle L. Van Orman, Hoi-Ting Wu and Ryan R. Julian
Phys. Chem. Chem. Phys., 2020, 22, 23678-23685. DOI: 10.1039/D0CP04111D
Paper
Local dynamics of the photo-switchable protein PYP in ground and signalling state probed by 2D-IR spectroscopy of –SCN labels
Julian M. Schmidt-Engler, Larissa Blankenburg, Rene Zangl, Jan Hoffmann, Nina Morgner and Jens Bredenbeck
Phys. Chem. Chem. Phys., 2020, 22, 22963-22972. DOI: 10.1039/D0CP04307A
Perspective
How nature covers its bases
Samuel Boldissar and Mattanjah S. de Vries
Phys. Chem. Chem. Phys., 2018, 20, 9701-9716. DOI: 10.1039/C8CP01236A
We hope you enjoy reading the articles.