We are delighted to announce that the Physical Chemistry Chemical Physics (PCCP) themed issue Synchrotron Radiation Techniques in Catalytic Science is now online and free to access until the end of November 2020.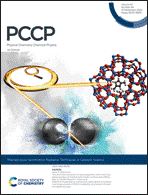 Techniques employing Synchrotron Radiation (SR) have had a transformative effect on catalytic science. The unique properties of SR have led to entirely new opportunities in diffraction, spectroscopy, small angle scattering and tomographical studies of catalytic materials. Moreover, SR has been crucial in enabling the growth of in situ experimental studies of catalytic processes under realistic operating conditions. The field impacts on all areas of catalytic science, including heterogeneous, homogeneous, biocatalysis and chemical engineering aspects.
Guest Edited by Professor Richard Catlow, Dr Diego Gianolio and Professor Peter Wells, this themed issue presents a survey of the present state-of-the-art in the field with papers from leading scientists in catalytic science worldwide.
Read the full issue online
It includes:
Editorial
Synchrotron radiation techniques in catalytic science
C. Richard A. Catlow, Peter Wells and Diego Gianolio
Phys. Chem. Chem. Phys., 2020, 22, 18745-18746. DOI: 10.1039/D0CP90186E
Perspective
Soft XAS as an in situ technique for the study of heterogeneous catalysts
Simon K. Beaumont
Phys. Chem. Chem. Phys., 2020, 22, 18747-18756. DOI: 10.1039/D0CP00657B
Perspective
Enantiospecificity in achiral zeolites for asymmetric catalysis
Tianxiang Chen, Ching Kit Tommy Wun, Sarah J. Day, Chiu C. Tang and Tsz Woon Benedict Lo
Phys. Chem. Chem. Phys., 2020, 22, 18757-18764. DOI: 10.1039/D0CP00262C
Communication
Site-dependent selectivity in oxidation reactions on single Pt nanoparticles
Shahar Dery, Suhong Kim, Daniel Feferman, Hillel Mehlman, F. Dean Toste and Elad Gross
Phys. Chem. Chem. Phys., 2020, 22, 18765-18769. DOI: 10.1039/D0CP00642D
Communication
In situ XAFS of acid-resilient iridate pyrochlore oxygen evolution electrocatalysts under operating conditions
David L. Burnett, Enrico Petrucco, Andrea E. Russell, Reza J. Kashtiban, Jonathan D. B Sharman and Richard I. Walton
Phys. Chem. Chem. Phys., 2020, 22, 18770-18773. DOI: 10.1039/D0CP01378A
Paper
The electronic structure, surface properties, and in situ N2O decomposition of mechanochemically synthesised LaMnO3
Rachel H. Blackmore, Maria Elena Rivas, George F. Tierney, Khaled M. H. Mohammed, Donato Decarolis, Shusaku Hayama, Federica Venturini, Georg Held, Rosa Arrigo, Monica Amboage, Pip Hellier, Evan Lynch, Mahrez Amri, Marianna Casavola, Tugce Eralp Erden, Paul Collier and Peter P. Wells
Phys. Chem. Chem. Phys., 2020, 22, 18774-18787. DOI: 10.1039/D0CP00793E
Paper
Elucidating the mechanism of the CO2 methanation reaction over Ni–Fe hydrotalcite-derived catalysts via surface-sensitive in situ XPS and NEXAFS
Gianfranco Giorgianni, Chalachew Mebrahtu, Manfred Erwin Schuster, Alexander Ian Large, Georg Held, Pilar Ferrer, Federica Venturini, David Grinter, Regina Palkovits, Siglinda Perathoner, Gabriele Centi, Salvatore Abate and Rosa Arrigo
Phys. Chem. Chem. Phys., 2020, 22, 18788-18797. DOI: 10.1039/D0CP00622J
Paper
CuO/La0.5Sr0.5CoO3: precursor of efficient NO reduction catalyst studied by operando high energy X-ray diffraction under three-way catalytic conditions
Ivo Alxneit, Alberto Garbujo, Giovanni Carollo, Davide Ferri and Antonella Glisenti
Phys. Chem. Chem. Phys., 2020, 22, 18798-18805. DOI: 10.1039/D0CP01064B
Paper
Identifying the catalyst chemical state and adsorbed species during methanol conversion on copper using ambient pressure X-ray spectroscopies
Baran Eren, Christopher G. Sole, Jesús S. Lacasa, David Grinter, Federica Venturini, Georg Held, Cruz S. Esconjauregui and Robert S. Weatherup
Phys. Chem. Chem. Phys., 2020, 22, 18806-18814. DOI: 10.1039/D0CP00347F
Paper
Model building analysis – a novel method for statistical evaluation of Pt L3-edge EXAFS data to unravel the structure of Pt-alloy nanoparticles for the oxygen reduction reaction on highly oriented pyrolytic graphite
Felix E. Feiten, Shuntaro Takahashi, Oki Sekizawa, Yuki Wakisaka, Tomohiro Sakata, Naoto Todoroki, Tomoya Uruga, Toshimasa Wadayama, Yasuhiro Iwasawa and Kiyotaka Asakura
Phys. Chem. Chem. Phys., 2020, 22, 18815-18823. DOI: 10.1039/C9CP06891K
We hope you enjoy reading the articles. Please get in touch if you have any questions about this themed collection or PCCP.