Associate Editor John Zhang has selected some outstanding research to share with you from Physical Chemistry Chemical Physics (PCCP). Read them now for free until the end of October 2020!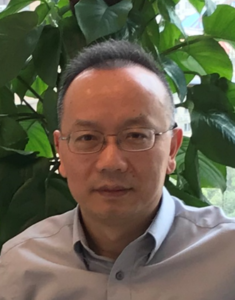 John Zhang is professor of chemistry at New York University Shanghai and Director of NYU-ECNU Center for Computational Chemistry at NYU Shanghai. His current research focuses on protein structure and dynamics, fragment quantum chemistry study of biomolecules, polarizable force field, protein-ligand interaction, protein-protein interaction, ab initio molecular dynamics study of biomolecules and computational drug design.
Submit your research to John here
Read John's choices for free now:
Perspective
Polarizable embedding QM/MM: the future gold standard for complex (bio)systems?
Mattia Bondanza, Michele Nottoli, Lorenzo Cupellini, Filippo Lipparini and Benedetta Mennucci
Phys. Chem. Chem. Phys., 2020, Advance Article. DOI: 10.1039/D0CP02119A
Paper
On the polarization of ligands by proteins
Soohaeng Yoo Willow, Bing Xie, Jason Lawrence, Robert S. Eisenberg and David D. L. Minh
Phys. Chem. Chem. Phys., 2020, 22, 12044-12057. DOI: 10.1039/D0CP00376J
Paper
Are 2D fingerprints still valuable for drug discovery?
Kaifu Gao, Duc Duy Nguyen, Vishnu Sresht, Alan M. Mathiowetz, Meihua Tu and Guo-Wei Wei
Phys. Chem. Chem. Phys., 2020, 22, 8373-8390. DOI: 10.1039/D0CP00305K
Paper
Impact of electronic polarizability on protein-functional group interactions
Himanshu Goel, Wenbo Yu, Vincent D. Ustach, Asaminew H. Aytenfisu, Delin Sun and Alexander D. MacKerell
Phys. Chem. Chem. Phys., 2020, 22, 6848-6860. DOI: 10.1039/D0CP00088D
Paper
How do mutations affect the structural characteristics and substrate binding of CYP21A2? An investigation by molecular dynamics simulations
Baihui Lin, Hongxing Zhang and Qingchuan Zheng
Phys. Chem. Chem. Phys., 2020, 22, 8870-8877. DOI: 10.1039/D0CP00763C
We hope you enjoy reading the articles.