Associate Editor Luis Bañares has selected some outstanding research to share with you from Physical Chemistry Chemical Physics (PCCP). Read them now for free until the end of August 2020!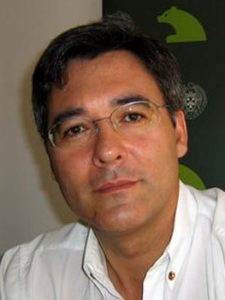 Professor Luis Bañares is Chair of Physical Chemistry and Director of the Centre for Ultrafast Lasers at Universidad Complutense de Madrid (UCM), Spain. His research interests are related to experimental and theoretical chemical reaction dynamics and femtochemistry. His work focuses on the understanding of fundamental chemical reactions and photodissociation processes at a molecular level.
Submit your research to Luis here
Read Luis's choices for free now:
Paper
State-to-state photodissociation dynamics of CO2 around 108 nm: the O(1S) atom channel
Jiami Zhou, Zijie Luo, Jiayue Yang, Yao Chang, Zhiguo Zhang, Yong Yu, Qinming Li, Gongkui Cheng, Zhichao Chen, Zhigang He, Li Che, Shengrui Yu, Guorong Wu, Kaijun Yuan and  Xueming Yang
Phys. Chem. Chem. Phys., 2020, 22, 6260-6265. DOI: 10.1039/C9CP06919D
Paper
Formation of highly excited iodine atoms from multiphoton excitation of CH3I
Kristján Matthíasson, Greta Koumarianou, Meng-Xu Jiang, Pavle Glodic, Peter C. Samartzis and Ágúst Kvaran
Phys. Chem. Chem. Phys., 2020, 22, 4984-4992. DOI: 10.1039/C9CP06242D
Paper
Laser-induced alignment dynamics of gas phase CS2 dimers
Adam S. Chatterley, Mia O. Baatrup, Constant A. Schouder and Henrik Stapelfeldt
Phys. Chem. Chem. Phys., 2020, 22, 3245-3253. DOI: 10.1039/C9CP06260B
Paper
Photoelectron spectroscopy of boron-containing reactive intermediates using synchrotron radiation: BH2, BH, and BF
P. Mukhopadhyay, D. Schleier, I. Fischer, J.-C. Loison, C. Alcaraz and G. A. Garcia
Phys. Chem. Chem. Phys., 2020, 22, 1027-1034. DOI: 10.1039/C9CP06010C
Paper
Time-resolved formation of excited atomic and molecular states in XUV-induced nanoplasmas in ammonia clusters
Rupert Michiels, Aaron C. LaForge, Matthias Bohlen, Carlo Callegari, Andrew Clark, Aaron von Conta, Marcello Coreno, Michele Di Fraia, Marcel Drabbels, Paola Finetti, Martin Huppert, Veronica Oliver, Oksana Plekan, Kevin C. Prince, Stefano Stranges, Vít Svoboda, Hans Jakob Wörner and Frank Stienkemeier
Phys. Chem. Chem. Phys., 2020, 22, 7828-7834. DOI: 10.1039/D0CP00669F
We hope you enjoy reading the articles.