We are delighted to welcome Prabal Maiti as our newest Physical Chemistry Chemical Physics Associate Editor.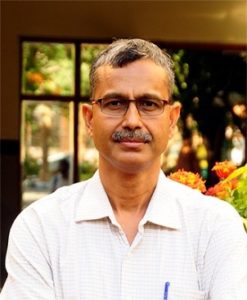 Prabal Maiti, Indian Institute of Science
Prabal K. Maiti is Professor and currently the chair in the Department of Physics, Indian Institute of Science, Bangalore. He works in the area of Multiscale Modelling of Soft and Bio-materials. His major research goal is to pursue theoretical and numerical modelling connecting molecular and macroscopic length scales to improve basic understanding of various soft-matter and biological systems, both from a fundamental and an applied point of view. Areas of current research interest include structure and dynamics of hyperbranched and conjugated polymer, charge transport in molecular systems, DNA-based nanotechnology, and confined fluid. Prof Maiti received his M.Sc and Ph.D. degrees in Physics from IIT, Kanpur, India followed by postdoctoral stays at MPIP, Mainz, the University of Colorado at Boulder, and Caltech, USA. He is a fellow of Indian academy of Science and recipient of Alexander von Humboldt fellowship and Fulbright fellowship.
Submit your best work to Prabal now.
Read Prabal's latest Papers in PCCP here:
Tuning molecular fluctuation to boost the conductance in DNA based molecular wires
Saientan Bag and Prabal K. Maiti
Phys. Chem. Chem. Phys., 2019, 21, 23514-23520. DOI: 10.1039/C9CP03589C
Remarkable similarity of force induced dsRNA conformational changes to stretched dsDNA and their detection using electrical measurements
Abhishek Aggarwal, Saientan Bag and Prabal K. Maiti
Phys. Chem. Chem. Phys., 2018, 20, 28920-28928. DOI: 10.1039/C8CP03574A